ABM Archive Website
THIS WEBSITE CONTAINS ARCHIVE MATERIALS FOR HISTORICAL REFERENCE ONLY
For up-to-date information, including our latest appeals, news, and resources, please visit our current website.
Australian Bushfire Recovery Stories : Southern NSW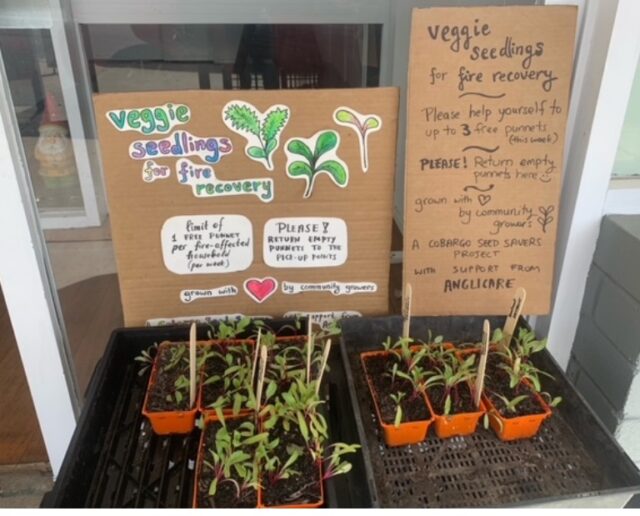 Distribution of vegetable seedlings was part of the bushfire recovery led by Anglicare in Cobargo in the Bega Valley Shire.
© Anglicare NSW South, NSW West & ACT. Used with permission.
More than a year after Australia's horrific 2019-2020 summer of bushfires, communities are still slowly recovering.
ABM supporters' assistance to communities in the Diocese of Gippsland was reported last year.
Here we report on how your assistance reached communities in southern NSW.
Cobargo, in Bega Valley Shire in south-eastern NSW, was one of the towns worst hit by the bushfires. With support from ABM through Anglicare, a 'seed savers' project was launched. Four workshops were held, attended by 40 people, and 5000 seedlings were distributed in Cobargo and four other nearby bushfire-affected towns. Local businesses helped with the distribution.
Just 10 km south of Cobargo, Quaama Public School was damaged during the bushfires. With support from ABM's donors, work has started on replanting the school's orchard and vegetable garden and laying pavers.
On New Year's Eve, 2019, less than 24 hours after the fires reached Cobargo, they reached Nerrigundah, 30km north of Cobargo. Locals focused on physical reconstruction throughout 2020 but realised there was still a need for psychological healing. ABM's support went towards yoga classes. The yoga classes will be followed in June 2021 by two 'Good grief' seminars aimed at improving well-being.
On 5 Jan 2020, the fires roared into Batlow, in the highlands south-west of Canberra. When locals were asked how Anglicare could assist, one of the needs was for firewood. A need for firewood after a bushfire! 21 bushfire-affected families each received a delivery of firewood.
After one of the deliveries, Anglicare Batlow's Bushfire Coordinator commented,
It was lovely to help them out. They were the family who had a family friend pass away on their property while assisting with defending their property during the Dunn's road bushfire emergency on the Saturday. It is wonderful to be able to help with this load of wood and as they are still continuing to rebuild fences etc. on the farm. Knowing that there is wood available has really eased their minds.
ABM thanks Anglicare and those who donated to the bushfire recovery and expresses our appreciation and respect to those in the affected communities for the resilience they are showing.