ABM Archive Website
THIS WEBSITE CONTAINS ARCHIVE MATERIALS FOR HISTORICAL REFERENCE ONLY
For up-to-date information, including our latest appeals, news, and resources, please visit our current website.
Global Rapid Response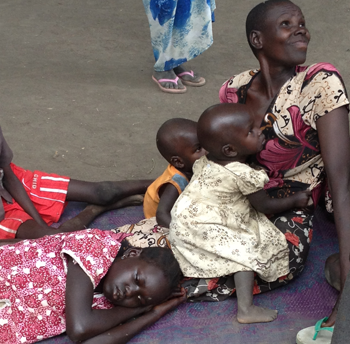 Mother with twin infants to feed in South Sudan.
© ECSSS/Rev Emmanuel Lumoro 2014
ABM responds to unexpected emergency situations throughout the world to ensure those in need are provided with immediate assistance.
ABM works with different partners, regionally and internationally to respond to crises.
In 2014 ABM sent funds to assist those impacted by the following events: floods in the Solomon Island, South Sudan civil war; typhoon in the Philippines, the Ebola crisis in West Africa and war in Gaza.
Gaza is home to 1.7 million, with over half of the population being children. During the fighting in mid-2014 more than 2,000 people were killed with over 10,000 people injured. Thousands of homes were completely destroyed during the bombing, leaving 475,000 people displaced, whilst at least 373,000 children have been left traumatised.
These people were urgently in need of medical treatment, health services, shelter, clean water, food and psychosocial support, especially the children and ABM's partner was able to provide some of these.
Such crises see ABM send funds from its Global Rapid Response fund to ensure these urgent needs are met.
Whether it is a natural disaster, conflict or a health crisis your support of this project will offer people in need immediate assistance.
XG033ZX – Global Rapid Response needs $20,000 in 2015
» Read about the Global Rapid Response project updates from 2014
HOW TO DONATE
You can make an online donation to this project by selecting Global Rapid Response Fund from the full project list.
Alternatively, for donations by cheque/money order (made out to the Anglican Board of Mission – Australia), telephone or email, view contact details here. Please don't forget to include the project name and/or code with your payment details.