ABM Archive Website
THIS WEBSITE CONTAINS ARCHIVE MATERIALS FOR HISTORICAL REFERENCE ONLY
For up-to-date information, including our latest appeals, news, and resources, please visit our current website.
Nepal Appeal Update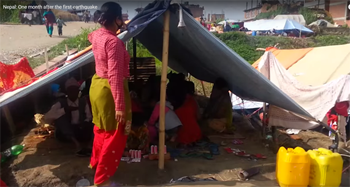 ACT Alliance

10/09/15 – Due to the generosity of its supporters, ABM has contributed $188,260 in response to the devastating earthquakes in Nepal. As ABM does not have an existing in-country partner in the region, these funds were directed through ACT Alliance, to specifically support the relief work of the Lutheran World Federation (LWF).
LWF is an ACT member organisation that has been working in the Nepal region since 1984, and is actively partnering with Nepal's most disadvantaged communities in development programs. As a result of their existing work in the region, LWF emergency staff were well-positioned to launch an immediate emergency response following the earthquakes, and provided much needed assistance in areas such as Kathmandu, Bhaktapur, Lalitpur, Rasuwa, Sindhupalchowk, and Dolakha districts.
With the support of ACT Alliance donors such as ABM, LWF Nepal was able to directly assist 110,000 households through the supply of emergency shelter, WASH, food, and non-food items. These emergency supplies were vital in ensuring that the basic needs of those affected were met, and as a result, the life and dignity of many victims was sustained throughout the crisis.
In distributing these supplies, LWF staff were careful to recognise those that were most vulnerable and in need of assistance. This process allowed women-headed households, the elderly, ethnic minorities, and those with disabilities to be identified. Staff were then able to ensure that these groups received extensive support that accommodated for their specific needs.
Months after the initial crisis, LWF alongside other ACT members are now moving towards early recovery and reconstructive work within their specific districts. Grants or vouchers to the value of $500 US will be provided for the construction of more permanent shelters with corrugated iron roofs. During this process, training will also be offered to teach local communities about earthquake resistant construction. Households will receive additional support to build water and sanitation units which will be pivotal in preventing the spread of future infection and disease.
Through community networks, LWF Nepal continues to provide psychosocial support to quake victims and their families. Programs involving sports, music, handicraft, drama, children's play groups and various youth activities are also being conducted in order to strengthen and enhance the collective well-being of affected areas.
In partnership with ACT Alliance and its implementing agencies, ABM is very pleased to support the good work in Nepal. Through the generosity of donors, the ongoing recovery activities will continue to foster the development of urban and rural communities.
< Back