ABM Archive Website
THIS WEBSITE CONTAINS ARCHIVE MATERIALS FOR HISTORICAL REFERENCE ONLY
For up-to-date information, including our latest appeals, news, and resources, please visit our current website.
Rebuilding communities after Cyclone Donna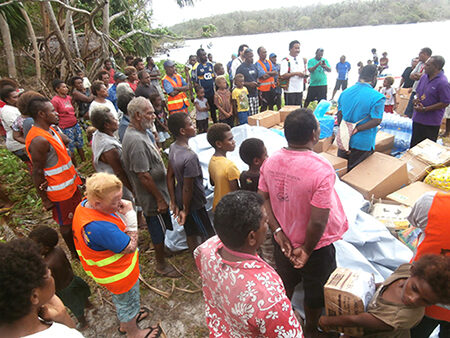 Bishop Patterson Worek formerly handing over the supplies to NDMO's Coordinator
Philip Meto at Loh. © ACOM 2018
May 2018
Thanks to the generous financial donations from ABM's supporters, ABM was able to assist the Anglican Church of Melanesia (ACOM) respond to the devastation left in Vanuatu following the wake of Tropical Cyclone Donna in May 2017.
Following the devastating winds and rain that battered the many islands that make up Vanuatu, ACOM were able to provide much needed relief supplies to 981 people across 172 households from the Torres Group of islands, the northern part of Vanuatu, who had lost homes, gardens and schools.
The first phase of relief supplies included packaged pre-cooked foods, water, shelter and hygiene kits, seeds and fishing gear. Locally available produce provided a familiar and healthy balanced diet until such time as the communities could access other food sources. The water supplies helped to reduce water borne diseases caused by drinking contaminated water. Communities also benefited from the provision of shelters and hygiene kits. They were able to resume their normal activities soon after the flood waters receded with the help of the fishing gear and seeds. This combination of relief ensured the communities were in as strong a position to contribute to their own rebuilding efforts rather than relying for too long on external agencies.
While doing the assessments and delivering relief supplies the ACOM staff noted that in many cases communities had already started repairing damaged buildings such as churches and schools. This resilience is the foundation for any relief effort and ACOM is working with its local contacts to ensure relief efforts support such initiatives.
In this relief effort, ACOM worked with the National Disaster Management Office (NDMO) to ensure emergency relief was supplied where it was most needed and in a timely and efficient manner. They also applied recommendations that were made following previous disasters, such as ensuring the food relief was healthy and utilised locally available food produce rather than relying on imported tinned food.
ACOM was also able to purchase 2 outboard motors for dinghies in the Diocese of Banks and Torres to assist in future disasters.
ABM thanks all those who so generously supported this appeal through prayer and financial contributions.
Since then, ACOM has responded to other natural disasters, with the Ambae Volcano flaring up again resulting in the government subsequently organising another mass evacuation. You can read about the latest evacuation, and ABM's response, at Manaro Volcano on Ambae Island Vanuatu causes mass evacuation again and Update: Vanuatu Manaro Volcano Emergency.
ABM is committed to continuing our work with ACOM in the areas of disaster risk reduction and emergency response. Your prayerful and financial support is greatly appreciated by our brothers and sisters in Vanuatu.
< Back