ABM Archive Website
THIS WEBSITE CONTAINS ARCHIVE MATERIALS FOR HISTORICAL REFERENCE ONLY
For up-to-date information, including our latest appeals, news, and resources, please visit our current website.
Sulawesi Earthquake and Tsunami Update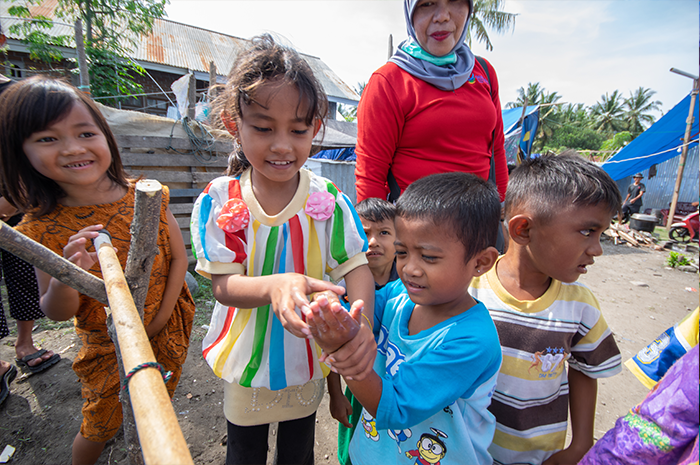 Children in Central Sulawese using soap from hygiene kits provided by ACT Indonesia. ©

Simon Chambers/ACT.
May 2019
At the end of September, 2018, an earthquake triggering a tsunami hit the Indonesian Province of Central Sulawesi.
ABM's supporters responded generously and quickly, enabling ABM to send funds to the response carried out by Action by Churches Together (ACT) Indonesia Forum.
ACT tells this story of the relief effort: "[Following the earthquake, ten year old] Kirana* and her family were safe, but their house had collapsed and their motorcycle was crushed. As they calmed down, Kirana began to feel the pain in her head.
"It took a few days for the road to be rebuilt enough to be safe for relief teams to come to Kirana's village. ACT member Pelkesi sent a doctor and health workers to take care of people in the temporary camp they had built. Kirana was one of their patients. They treated her injury and gave her medicine…
"Through the ACT appeal, the ACT Indonesia Forum provided health care, water, sanitation, temporary housing, and relief supplies to families like Kirana's."
ACT has so far enabled the relief and recovery efforts to reach more than 12,000 individuals, including the following:
2,443 households were equipped with emergency shelter kits
2,660 households received emergency hygiene kits
1073 households received carpentry kits and kitchen utensils
500 households received non-food items
5 people with disabilities had inclusive/accessible houses constructed for them and their families
ABM would like to thank our supporters who raised more than $21,000 for this appeal.
Please continue to pray for Kirana and people like her in Central Sulawesi, as they rebuild their lives.
* not her real name
< Back