ABM Archive Website
THIS WEBSITE CONTAINS ARCHIVE MATERIALS FOR HISTORICAL REFERENCE ONLY
For up-to-date information, including our latest appeals, news, and resources, please visit our current website.
Summary of previous Humanitarian Emergency Appeals
2020
BEIRUT EXPLOSION EMERGENCY RESPONSE 2020-21
Following the explosion that rocked the port of Beirut, Lebanon, on 4 August 2020, about 300,000 people were immediately displaced.
The Anglican Church of Jerusalem and the Middle East, which includes Lebanon sought help from its partners to provide emergency food to vulnerable affected families.
Funds raised by ABM from its generous supporters have been used to provide emergency food for 200 families in the form of monthly food stamps used to exchange at the shops for food items.
More than $13,000 was raised by ABM for the food relief and a further $8,000 for a church rebuilding fund. However, as other donors had already sent sufficient funds for the rebuilding, all the funds raised by ABM will be used for the continuing urgent food relief.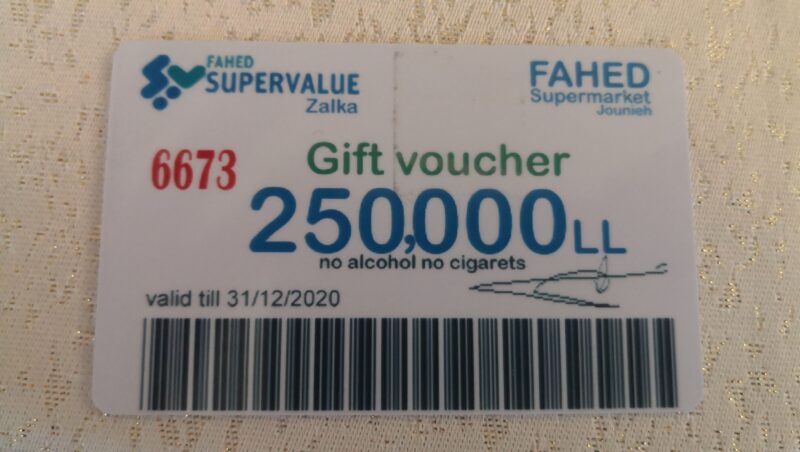 A typical food stamp given to people affected by the explosion.
ANGLICAN CHURCH ROSE TO THE CHALLENGE OF CYCLONE HAROLD IN VANUATU

When Cyclone Harold struck Vanuatu in April 2020, many local church workers in Luganville on the island of (Espiritu) Santo also had their own homes damaged. It would have been understandable if they had devoted time to their own needs instead of travelling out to worse-affected communities. But they went.
---
2019
AUSTRALIAN BUSHFIRE RESPONSE 2019-20
After the terrible bushfires of the summer of 2019-20, ABM received several generous donations for the Australian Anglican Church's response.
ABM distributed these funds for recovery efforts by Anglicare in affected parts of the country. These included East Gippsland in Victoria, South Australia, and Southern New South Wales.

You can read more about responses in Gippsland here and here.
To see the Anglicare response in Southern New South Wales, click here
To see the Anglicare response in South Australia, click here
---
2018
MYANMAR EMERGENCY RESPONSE (2017-18)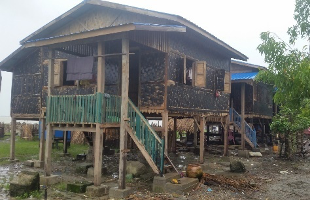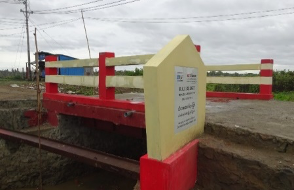 Conflict flared up in Myanmar in late 2017 between the Burmese majority and an ethnic minority group: the Rohingya. Many Rohingya became displaced internally or fled across the border into Bangladesh. Through our supporters' generosity, in February 2018 ABM was able to contribute AUD$30,000 towards a response by ACT Alliance (Action by Churches Together).
ACT Alliance members built temporary shelters: 17 individual houses and 35 long houses, serving a total of 297 displaced families. They also constructed two bridges, two jetties and two raised footpaths to allow people in the relocation sites to better access nearby markets and other facilities. The ACT Alliance program also installed 45 fire points across eight relocation sites and distributed kitchen sets to 980 displaced families. To ensure peace, the program plan was checked and approved each month by local government officials. The project drew on extensive volunteer labour from the beneficiaries themselves, reflecting their resilience and their sense that the project design met their needs. As explained by one beneficiary, Mr. U Kyaw Hla in Khaung Doke Khar-1, "We faced many difficulties in the rainy season. Now, we can live happily and safely with our families".
PAPUA NEW GUINEA EARTHQUAKE RELIEF FEBRUARY, 2018
A magnitude 7.5 earthquake hit Papua New Guinea on 26 February 2018, devastating communities in Southern Highlands and Hela provinces. Through donations from our generous supporters, ABM was able to send AUD$46,664 to our partner, Anglicare PNG. The funds were used to install nine water tanks in communities around the town of Mendi within the first twelve months, and to conduct a follow-up monitoring visit in September 2019.
For more details, see our updates in 2018 and 2019.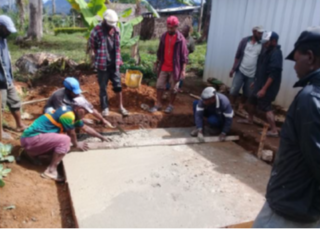 Volunteers prepare slab base for water tank at Yaken Aid Post, near Mendi, PNG. © Anglicare PNG.
GAZA EMERGENCY DECEMBER 2018 UPDATE
Ahli Arab Hospital, run by the Anglican Diocese of Jerusalem, is the oldest hospital in the Gaza Strip. When one of its wards collapsed in December 2018, ABM supporters rallied to send $10,000 towards the reconstruction. The reconstruction project provided employment for around 300 labourers (200 non-skilled and 100 skilled) and there seems to have been a conscious effort to purchase materials locally. The funds were also sufficient to provide five air conditioning units and very basic furnishings for the ward. When completed in 2020, the ward was able to treat 150 patients per day.
For an overview of this project and other 2019 projects in Gaza, click here.
GAZA: AHLI HOSPITAL EMERGENCY APPEAL, MAY 2018
There was an upsurge in violence on the Gaza strip from 30th of March 2018 till 31st December 2018. ABM partner Al Ahli Hospital treated 276 emergency cases (271 males and 5 females), including 149 people who required surgical procedures. ABM, through the generosity of our supporters, was able to contribute AUD$10,000, which was used for medicines and medical supplies.
For more details, see our 2018 update.
VANUATU: ANGLICAN CHURCH RELOCATES FAMILIES FLEEING AMBAE VOLCANO (2017-18)
On Ambae Island in Vanuatu, Manara Volcano erupted several times, beginning in September 2017 and continuing into 2018. Locals were forced to evacuate to nearby islands as their homes and fields were covered in ash. Aided by our supporters, ABM sent AUD$30,288 in two tranches to our partner, the Anglican Church of Melanesia. The first tranche was used to provide relief supplies to evacuees across ten evacuation sites, provide trauma counselling at seven sites and upgrade toilets at two sites. The second tranche was used to provide further relief supplies on Santo and Maewo Islands, as well as to install water and sanitation facilities on Malo Island.
For more details, see our updates in 2018 and 2019.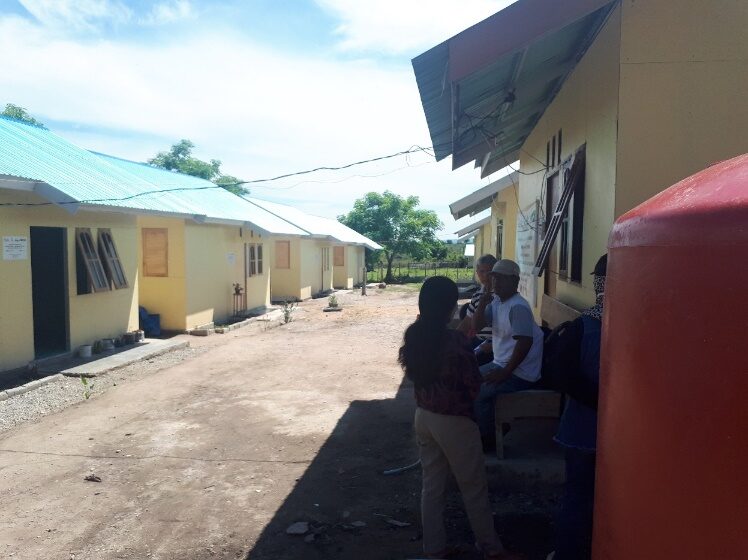 Preparing for relief distributions at evacuation site on Santo Island, 2017. © ACOM Vanuatu.
PHILIPPINES: TYPHOON MANGKHUT RESPONSE (2018-19)
Cyclone Mangkhut (Typhoon Ompong) struck Luzon Island in the Philippines on Sept 2018. ABM and our supporters were able to send AUD $20,000 to our Luzon-based partner, E-CARE. The funds were used for a revolving grant program. 2,375 households borrowed funds during the first phase of the program and all funds had been repaid by July 2019, allowing many more households to access grants.
For details, see this update.
INDONESIA: SULAWESI EARTHQUAKE AND TSUNAMI, SEPTEMBER 2018
An earthquake and tsunami struck Sulawesi Island in Indonesia in September 2018, killing more than 2,000 people. ABM, through its generous supporters, contributed AUD$9,991 towards a response by ACT Alliance (Action by Churches Together). ACT Alliance members distributed relief supplies, drilled boreholes for water access in seven locations, treated more than 9,000 patients, and provided special assistance to the elderly and people with a disability.
For details, see our updates in May 2019, Dec 2019 and 2020.
---
2017
SYRIA (APPEALS IN 2015 AND 2017)
In 2015 and 2017, with many Syrians displaced by war in Syria, ABM contributed a total of AUD$ 20,524 to humanitarian response programs run by ACT Alliance (Action by Churches Together). The programs provided packages of food and other items to more than 18,000 Syrian refugee families in Jordan, and food and hygiene vouchers to 500 displaced Syrian refugee families in Lebanon. The programs also rehabilitated WASH facilities in 3 schools and provided food packages for 12,200 families in Syria. For more details, see our 2018 article.
SOUTH SUDAN (APPEALS IN 2016 AND 2017)
In 2016 and 2017, as famine struck parts of South Sudan, ABM contributed funds to two separate humanitarian response programs there.
One was run by SUDRA (Sudanese Development & Relief Agency), an arm of the local Anglican Church. ABM contributed AUD$ 73,273. The program distributed food to 5,000 people and cash supplements to 2,000 people in Greater Equatoria and Wau.
The other was an ecumenical program run by ACT Alliance (Action by Churches Together). ABM contributed AUD$ 30,311. Key elements of the program were provision of cash supplements to 3,500 vulnerable households (equivalent of 120 USD per beneficiary), food for 1,600 pupils in 7 primary schools, farming tools for 1,400 households, and 1,800 bags of sorghum, ground nut and bean seeds.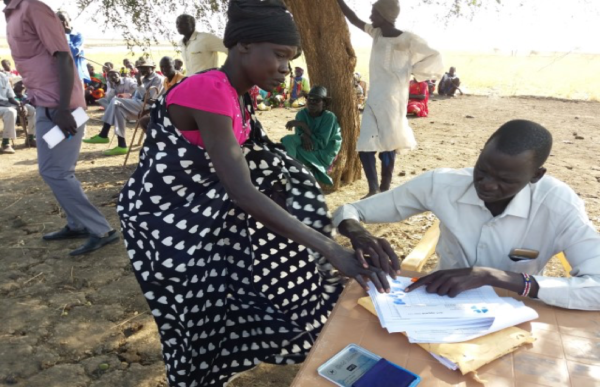 Beneficiary in Aruch Boma, Jamjang Payam signing for her money (source: ACT Alliance)
VANUATU (APPEAL IN 2017)
When thousands of people were displaced by an eruption of Ambae Volcano in 2017, ABM contributed AUD$ 20,288 to a program run by ACOM (the Anglican Church of Melanesia). ACOM established water and washing facilities in two evacuation centres and organized activities and trauma counselling at seven Evacuation centres. For more details, see our 2018 article.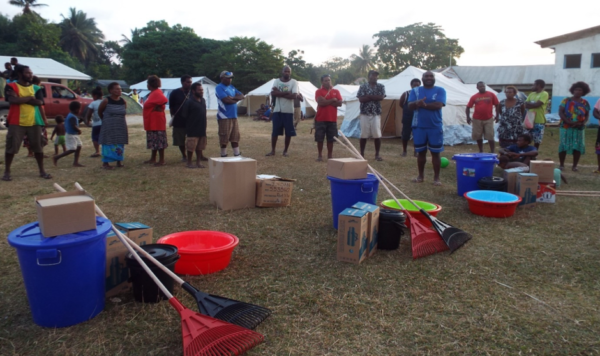 Distributing relief supplies at an evacuation centre on Santo Island (source: ACOM Vanuatu)
---
2016
PACIFIC EL NINO RESPONSE
July, 2016 – Among ABM's partner churches in Papua New Guinea (PNG), Solomon Islands and Vanuatu, significant parts of each country experienced critical water shortages and failed food crops due to the El Nino weather conditions prevailing in the region. ABM continues working with the Anglican Church Partners in response to this situation.
Pacific El Nino Response Emergency Appeal
FIJI CYCLONE EMERGENCY APPEAL
For this appeal, ABM was looking to raise $10,000 to support the victims of the cyclone that hit Fiji in February 2016. ABM was in contact with the Anglican Church of Aotearoa, New Zealand and Polynesia (of which the churches in Fiji and Tonga are a part) and also with the Anglican Alliance about the most effective and efficient way to provide the necessary support.
Thank you to ABM's generous supporters who gave over AUD 45,000 to the Cyclone Winston Appeal for the rebuilding of Maniava.
September, 2016 – View A Photo Essay by Julianne Stewart on the Anglican Alliance Cyclone Winston Emergency Response.
---
2015
MYANMAR FLOOD EMERGENCY APPEAL
In early August, Myanmar was hit by one of the worst floods in living memory. The situation was caused by heavy monsoon rains followed by Cyclone Komen which hit the affected regions. Twelve out of its fourteen states were declared disaster zones. Over 100 people died and up to 1 million people affected.
ABM is working with the Church of the Province of Myanmar (CPM) who coordinated their Relief Committee with the relief response and ongoing rehabilitation program.
Click on this link for previous updates.
View photographs of the floods and the ongoing relief work of CPM and others.
NEPAL EARTHQUAKE EMERGENCY APPEAL
On Saturday 25th April, Nepal suffered one of the worst earthquakes to hit a populated area in living memory. To put this in perspective, the Christchurch earthquake in New Zealand in 2011 was a 6.2 magnitude. The Nepal earthquake killed over 8,000 people, destroyed countless homes and buildings and left many people sleeping on the streets in freezing temperatures.
September, 2015 – ABM has so far contributed $188,260 in response to the devastating earthquakes in Nepal. As ABM does not have an existing in-country partner in the region, these funds were directed through ACT Alliance, to specifically support the relief work of the Lutheran World Federation (LWF). Read more.
February, 2016 – View A Photo Essay by Julianne Stewart on the ACT Alliance Nepal Earthquake Response.
November, 2016 – Read a report about an independent evaluation of the Nepal Earthquake Response that was commissioned by Action by Churches Together (ACT) Alliance: Evaluation of ACT Alliance Response to 2015 Nepal Earthquakes.
VANUATU CYCLONE EMERGENCY APPEAL
Cyclone Pam, which hit Vanuatu in mid March, led to a State of Emergency being declared across 65 islands with a total population of 267,000.
In response, ABM launched an appeal to raise $100,000 to provide much needed emergency relief for the many people who were displaced. We continue to support the Anglican Church of Melanesia (ACOM) with their relief and recovery efforts in the most affected communities.
Read previous accounts of the relief effort: Six Months on – the Recovery in Vanuatu and Update on Cyclone Pam Relief Activities. Also staff member Jessica Sexton's story of her own experience of the cyclone while on a monitoring trip in Vanuatu: Experiencing Cyclone Pam.
---
2014
SOUTH SUDAN CONFLICT EMERGENCY APPEAL
ABM launched the South Sudan Conflict Emergency Appeal in January 2014 in support of the relief work of our partner, the Episcopal Church of South Sudan and Sudan (ECSS&S).
$50,000 was raised initially to provide for emergency relief aid. ABM aimed to send another $50,000 to ECSS&S to assist their ongoing relief and reconstruction efforts in South Sudan.
The main aim of the relief phase was to distribute much needed food supplies to internally displaced persons. This phase included assessing the people's needs, training church workers to procure and distribute food as well as keep accurate records. The next phase includes a strong focus on the peace-building process and reconciliation work.
GAZA EMERGENCY APPEAL
ABM has a long relationship with the Anglican Church in the Holy Land, dating back to 1918. ABM has been supporting the Al-Ahli Arab hospital in Gaza for a number of years and provided emergency funding during the 2009 Israel-Gaza Conflict.
With the current conflict which erupted in July 2014, ABM responded immediately by sending the hospital $5,000 from its Global Rapid Response Fund.
The staff at Al Ahli Hospital have used emergency relief donations to extend free outreach services of the hospital to the many displaced people. They also focus on psychological support, running activities such as 'Joyful Days' for children, and counselling sessions for adults. Hygiene kits are distributed regularly to families as well, increasing sanitation and thus mitigating the spread of disease.
ABM had a fundraising target of $25,000. However, $69,534 has been raised to date. This entire amount has been sent to Al Ahli Hospital for these relief activities.
31/07/2015 Read an update on the Al Ahli Hospital one year after the war and how funding from our generous supporters has helped those in need – Gaza: Al Ahli Hospital One Year on From Conflict.
SOLOMON ISLANDS FLOOD RESPONSE
ABM launched the Solomon Islands Flood Response in April 2014 to provide emergency relief to the many displaced families and individuals affected by the devastating floods that ravaged parts of Honiara and Guadalcanal.
Our partner in the Solomon Islands, the Anglican Church of Melanesia (ACOM), was able to respond immediately and effectively in supplying emergency relief aid. The Trauma Healing and Counselling Team played a vital role in providing counselling for the flood victims, and ACOM continues to focus on the rehabilitation of communities. $38,435 was raised during this appeal.
Read an update for 2016 on the Solomon Islands Flood.
---
2013

SOLOMON ISLANDS TSUNAMI APPEAL
An 8.0 magnitude earthquake struck the Solomon Islands on 6th February 2013. The resulting tsunami left many people homeless in the province of Temotu, Santa Cruz Islands.
ABM's partner, the Anglican Church of Melanesia, asked for emergency relief for these people, many of whom were Anglicans and lived along the coastal villages of the islands. Donations went towards providing basic supplies of clean drinking water, food, tents and clothing.
ABM contributed $5,000 from the Global Rapid Response fund for this emergency.
ETHIOPIAN FOOD EMERGENCY APPEAL
ABM launched an emergency appeal for thousands of South Sudanese who were displaced by fighting near the border of Ethiopia. Armed clashes between rebels and the South Sudanese military resulted in a flood of people fleeing into the Gambella region of Ethiopia so that the border was closed.
ABM works in partnership with the Anglican Churches in Ethiopia and South Sudan, and Australian Anglican dioceses who have strong connections with Sudanese Anglican Australians.
$10,000 was provided to buy maize, wheat and cooking oil to feed some of the thousands of displaced people, with the Anglican Church there coordinating the distribution of supplies. Of this, $9,231 was raised by ABM supporters of the appeal.
TYPHOON YOLANDA (HAIYAN)
Thanks to our generous supporters, ABM was able to raise over $357,977 for the victims of Typhoon Haiyan which struck the Philippines in November 2013.
We continue to work support our Partners, the Episcopal Church in the Philippines and the Philippine Independent Church (Iglesia Filipina Independiente) with the rebuilding of communities devastated by the typhoon, including developmental relief, rehabilitation and livelihood support.
---
2012

PHILIPPINES EARTHQUAKE APPEAL
On 6th February, a 6.9 magnitude earthquake struck off Negros, the third largest island in the Philippines. The quake triggered off a series of landslides, collapsing buildings and houses, and damaging vital infrastructure. ABM appealed for $25,000 needed by the Iglesia Filipina Independiente – Philippine Independent Church (IFI) to provide relief aid to about 1,500 families, mostly women and children in the affected areas of Negros Island. Funds went towards food and water supplies – rice, canned goods, instant noodles, bottled water and coffee.
CONGO CONFLICT APPEAL
ABM accepted donations to help with humanitarian aid on behalf of the Anglican Church of Congo and in response to the Anglican Alliance who were highlighting the plight of many internally displaced people in the Democratic Republic of Congo during the civil violence. $10,593 was raised during this appeal.
---
2011
SUDAN CONFLICT APPEAL (ABYEI)
ABM's partner, the Episcopal Church of Sudan (ECS), asked for assistance in providing relief aid to about 34,000 internally displaced people in Abyei, in the north of Southern Sudan. Most were relocating to their former homelands in the south and experienced violence during their travels, with inadequate shelter, no access to clean water supplies and other basic needs. $133,204 was raised from this appeal.
ABM SPECIAL APPEAL FOR JAPAN
On March 11, a 9.0 magnitude earthquake struck Japan and caused a tsunami with 30 ft waves that killed and injured many, destroyed homes and damaged several nuclear reactors. It is the fourth largest earthquake on record (since 1900) and the largest to hit Japan. Over 15,000 people were killed and more than 3,000 were missing.
ABM accepted donations on behalf of Nippon Sei Ko Kai (NSKK), the Anglican Church in Japan, who provided much needed aid to the many left homeless. The church particularly used the funds to provide trauma counselling to people affected by the tsnunami. A total of $8977 was raised through this appeal.
EAST AFRICAN CRISIS APPEAL
ABM worked through our Anglican Church partner in Kenya, raising $280,000 to provide much needed aid to the many people who were affected by severe drought in several countries, such as Kenya, Ethiopia and Southern Sudan. The United Nations stated that it was "the worst drought in 60 years" with more than 10 million people affected. The funds not only brought relief in the Ukamba region of Kenya, but also helped improve many communities' resilience to future droughts.
---
2010
HAITI EARTHQUAKE APPEAL
On 12 January 2010, the Caribbean nation of Haiti was struck by a massive 7.0-magnitude earthquake. Over 200,000 people were killed and an estimate 3 million affected by the disaster. ABM sent donations for the victims of the Haiti Earthquake to the Episcopal Relief and Development Agency (ERD), our fellow Anglican partner in the United States who work in Haiti. Donors generously responded with $229,227 raised for Haiti.
CHILE EMERGENCY APPEAL
An earthquake measuring 8.8 on the Richter scale struck off the coast of Chile on 27 February 2010. Over 700 people died and an estimated 1.5 million people were affected by the disaster. ABM sent donations to organizations in Chile through the ACT Alliance whose members had established contact with local ACT member FASIC (Fundacion de Ayuda Social de las Iglesias Cristianas – foundation of social aid of Christian churches) and other local partners.
PAKISTAN FLOODS EMERGENCY APPEAL
ABM's partner, the Anglican Church of Pakistan, asked for emergency assistance in the Diocese of Peshawar where many people were badly affected by the worst floods in Pakistan's history, with Christians among the poorest and most marginalized people in the province. About 20 million people were affected and 1,600 killed with the flood waters ravaging one fifth of the country. Funds were used to supply aid such as food, clean water, shelter and medicine to those in greatest need, regardless of religion or membership of any group. $154,056 was raised during this appeal.
< Back