ABM Archive Website
THIS WEBSITE CONTAINS ARCHIVE MATERIALS FOR HISTORICAL REFERENCE ONLY
For up-to-date information, including our latest appeals, news, and resources, please visit our current website.
Fiji Cyclone Emergency Response
A PHOTO ESSAY BY JULIANNE STEWART
In September 2016, ABM Executive Director, Rev John Deane, and ABM Programs Director, Dr Julianne Stewart, joined an Anglican Alliance Monitoring visit. The group toured the rebuilding work being carried out by the Anglican Church in Fiji, after the devastation of Cyclone Winston in February 2016. These are some highlights of Dr Julianne's report.
(All images © Julianne Stewart/ABM, 2016 unless otherwise captioned.)
"Seven months after Tropical Cyclone Winston ravaged much of Fiji in February, 2016, the Anglican Alliance Pacific Regional Advisory Council (PRAC) were invited on a monitoring visit to the village of Maniava on the north coast of Viti Levu. ABM was part of this visit.
Maniava is a village inhabited entirely by descendants of Solomon Islanders who were kidnapped from their villages in Gela, Temotu and Malaita during the 1800s and brought to work in Fiji's cotton industry. Since they are not native Fijians, they are not entitled to own land in Fiji, only to lease it. Maniava was particularly badly hit by Cyclone Winston, with most of the houses either completely or partially destroyed. Since the villagers were already vulnerable, it was an obvious choice for the church to target with their assistance.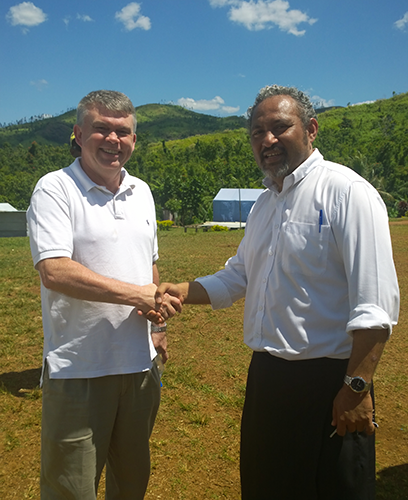 Rev Claude (left) with ABM's Rev John Deane
The visit was organised by Canon Claude Tong Foy, of the Anglican Diocese of Melanesia. Rev Claude is based in Suva, about 4 hours drive from Maniava. He recalls the day after the cyclone driving to the village and trying to get in, but being prevented by flood waters and other blockages to the road.
The church assisted the villagers with Dignity Packs donated by an NGO, with food provided by the government, and with pastoral care, after they were trained by experts sent by Anglican Missions Board in New Zealand. The government also provided seedlings so they could replant crops destroyed by the strong winds and rain.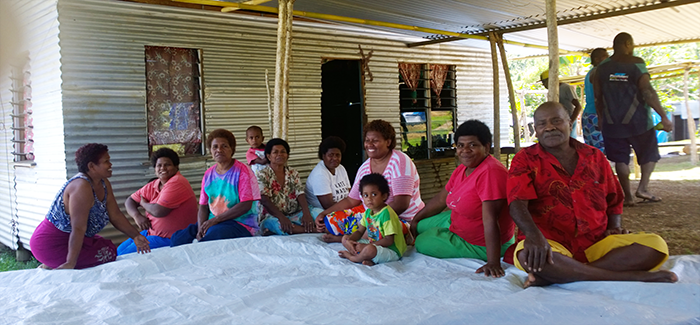 People of Maniava welcome the visitors from Anglican Alliance
Now the people of Maniava are able to grow their own food again, but are still waiting to rebuild their houses. Many still live in tents provided by the Chinese government, and some have salvaged corrugated iron to patch up their homes. But most are looking forward to having their homes "Built Back Better" to new cyclone-strength standards approved by the government of Fiji.
| | | |
| --- | --- | --- |
| | | |
| Tents provided by Chinese government | | Rev Claude shows Heni Meke from Anglicare PNG some improvised houses |
In fact, the only four houses in the village that were unharmed by the cyclone were like this one, rebuilt to government standards after Cyclone Evan hit Maniava in 2011.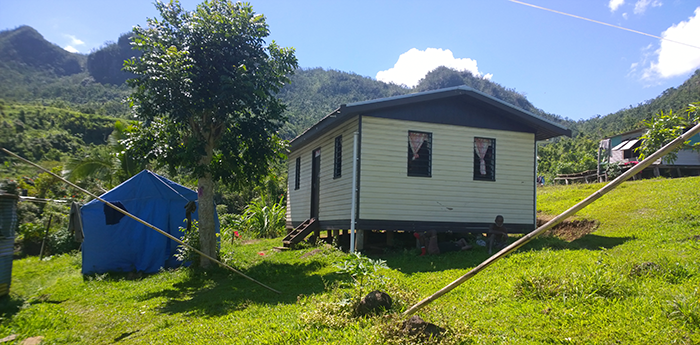 A house built to official government standards
Plans are for the Anglican Church engineer, Alfred Williams, to lead the rebuilding of the houses and two evacuation centres, using timber available on the village land, and compressed earth bricks to be made by the villagers themselves, with some assistance from qualified builders.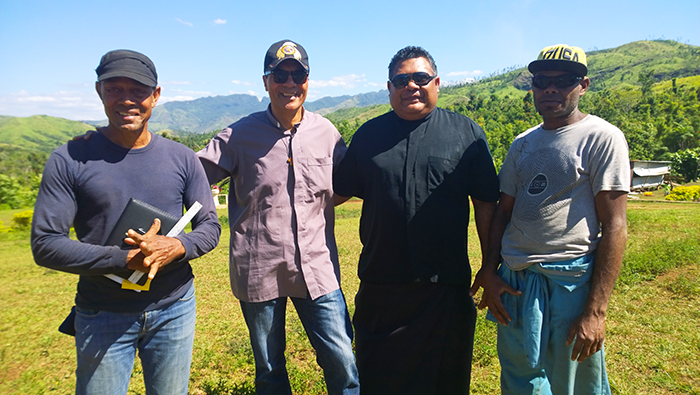 (From left to right) Engineer Alfred with ABM's Canon Robert Kereopa, Fr Tukwon Ahkee and Village Chief Vilomone Veilawa
A hostel is being built to government standards next to the nearest primary school for the children of Maniava to be housed. This will double up as an evacuation centre during future cyclones. And a new community centre, to be used as a church on Sundays, will also be a safe haven for the villagers should another cyclone hit Maniava.
| | | |
| --- | --- | --- |
| | | |
| Inside the temporary church and community centre | | Exterior of the temporary church |
But with the cyclone season starting again in November, building will need to start soon so that the people of Maniava can feel confident about facing the possibility that another cyclone will hit them."