ABM Archive Website
THIS WEBSITE CONTAINS ARCHIVE MATERIALS FOR HISTORICAL REFERENCE ONLY
For up-to-date information, including our latest appeals, news, and resources, please visit our current website.
AUSTRALIA: RECOVERING FROM LAST SUMMER'S BUSHFIRES PART 2
In December we told the heart-warming story of how donations received by ABM for rehabilitation of damage caused by last summer's bushfires have been used in the districts of Buchan and Clifton Creek, part of the Anglican Diocese of Gippsland.
Here we share more stories of hope from East Gippsland, this time from Wairewa, Goongerah and Timbarra.
In all three areas, ABM's funds were used to replace burnt-out fencing on farmland.
Wairewa
Elizabeth and Brian have lived at Wairewa, near Orbost, for many years. This small farming community was devastated by the bushfires of the summer of 2019-20. It is an area of mixed farming — beef cattle and some sheep, and alternative farming practices including extensive lemon groves. Every property at Wairewa was impacted by the fires. Many houses were lost, and the whole community experienced extensive trauma.
Some people stayed at their properties to fight the fire, evacuating family members at the last minute to shelter in the local community hall, only to find the hall itself then threatened by fire. You may imagine the horror felt by those fighting the fire to see the fire front head straight for the one place they thought their loved ones would be safe.
Luckily the fire changed direction and there was no loss of life.
Elizabeth and Brian, and Elizabeth's brother, stayed to defend their house. The house survived. However, all their fencing, sheds and yards were destroyed. Thankfully most of the stock survived, but as they are a small farm, they did not qualify for any major farming grants. And because their house survived, they were not eligible for the main Red Cross grant for loss of house.
The couple has struggled to get their farm up and running again and did not seek any assistance. But they came to the attention of the Anglican Diocese of Gippsland who were able to provide them with an ABM bushfire grant.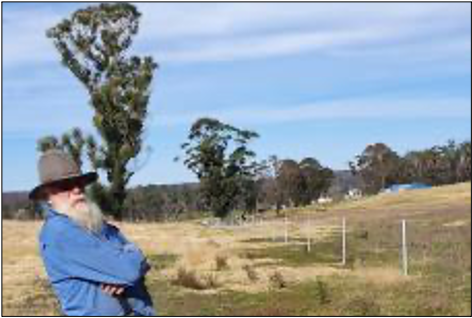 Brian relaxes after putting up new fencing using funds received from the ABM bushfire grant.
Goongerah
Fires hit the isolated locality of Goongerah on New Year's Eve, 2019. This area is home to both the Snowy and Errinundra National Parks, as well as farming communities. Cattle farmers Rory and Lynette suffered extensive loss of fences. They had not sought support from the Red Cross or other avenues but were very grateful for the fencing grant from ABM.
Like most other farmers rebuilding after the fires, Rory and Lynette replaced their fences with modern all-metal style fencing which can better withstand future fires. Heavier metal posts are used in hilly country to stabilise the fence and metal stay assemblies are used at ends and for corners. The fencing materials are all good quality so they will last long into the future.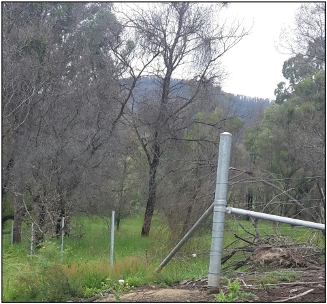 Part of the new metal fencing installed on Rory and Lynette's property through the ABM bushfire grant.
Timbarra
Elizabeth and her adult son, Steven, are cattle and sheep farmers in a very remote farming area along the Timbarra River valley in the mountain regions North-West of Buchan, Victoria. Elizabeth and Steven (who has Down Syndrome) are assisted by a part-time farm worker. During the fires, they lost 30 kilometres of fencing, most of which they have not been able to afford to replace. They are nonetheless most grateful for the ABM grant for 500 metres of fencing materials which will enable them to start the replacement work.
Elizabeth and Steven are currently organising with the fencing volunteers from Blazeaid to get the fence put up along one of the boundary lines of her property. This will aid them to get their cattle contained once more.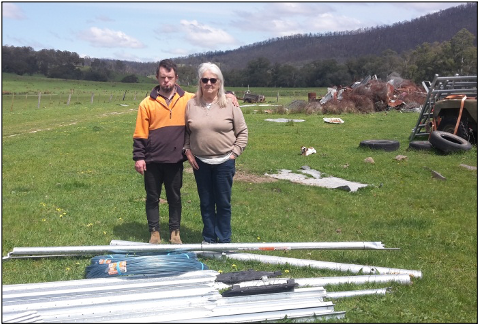 Elizabeth and Steven with their new fencing materials bought through the ABM bushfire grant.
Elizabeth and Brian, Rory and Lynette, and Elizabeth and Steven – farming people who are reluctant to ask for a "hand-out" – are typical of the people that the ABM bushfire grants have helped, through the Reverend Catherine Turnbull, Missional Deacon for Bushfire Recovery at the Anglican Diocese of Gippsland.