ABM Archive Website
THIS WEBSITE CONTAINS ARCHIVE MATERIALS FOR HISTORICAL REFERENCE ONLY
For up-to-date information, including our latest appeals, news, and resources, please visit our current website.
BEIRUT EXPLOSION: EMERGENCY APPEAL UPDATE
Funds raised by ABM from its generous supporters have been used to provide emergency food for 200 vulnerable families affected by August 2020's explosion in Beirut. 450 women and girls and 400 men and boys received monthly food stamps used to exchange at the shops for food items.
In the context of the ongoing COVID-19 emergency in Lebanon, and the economic fallout from this, as well as the devastation caused by the explosion, the need for emergency food is so great that a second tranche of funds was sent to continue this humanitarian response.
A church team from ABM's partner, the Diocese of Jerusalem, which includes Beirut, identified the families, then prepared lists of essential food items and identified shops where these could be most cheaply obtained. Food stamps were then issued to the families to exchange for the food items on the list.
50 year-old Saeed, who has a number of chronic illnesses, lost his job as a result of the explosion. Although his wife continues to work as a cleaner, her income is not sufficient to support them and their four children. The family greatly appreciated the food donated by ABM supporters, which freed up his wife's salary to pay for his monthly medicines.
Nor, aged 33 has a disabled husband and son. She works as a cleaner, and normally receives some financial assistance from a local humanitarian organisation. However, after the explosion, the demands on that organisation greatly exceed their ability to help Nor, and so she was very grateful to receive the support from ABM, especially in the lead up to Christmas.
More than $13,000 was raised by ABM for the food relief and a further $8,000 for a church rebuilding fund. However, as other donors had already sent sufficient funds for the rebuilding, all the funds raised by ABM will be used for the continuing urgent food relief.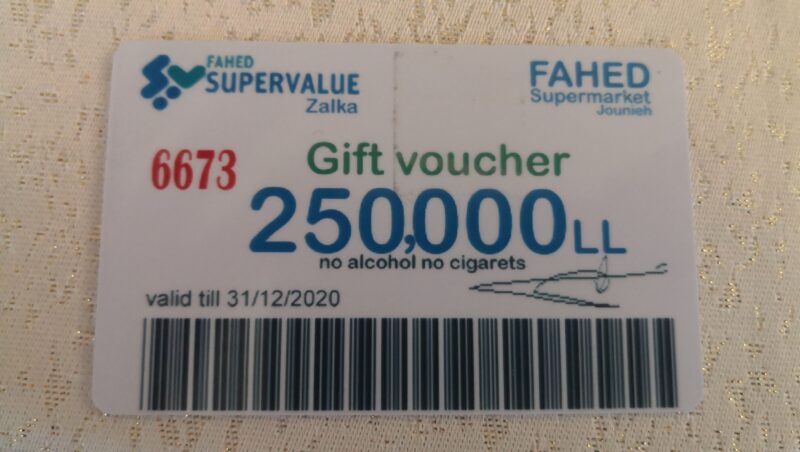 A typical food stamp given to people affected by the explosion.