ABM Archive Website
THIS WEBSITE CONTAINS ARCHIVE MATERIALS FOR HISTORICAL REFERENCE ONLY
For up-to-date information, including our latest appeals, news, and resources, please visit our current website.
Ambae – A Story of Resilience and Solidarity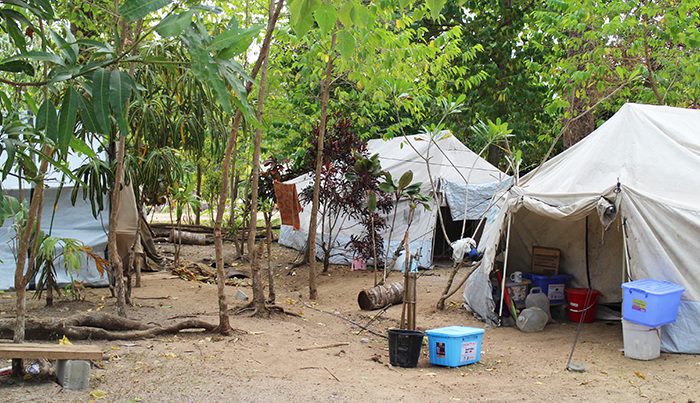 Banban Transfiguration Anglican Parish community, South East Santo, are hosting an additional 60 people evacuated from Ambae. © ACOM, 2018.

March 2019
Ambae Island in Vanuatu was one of those picturesque tropical islands that we might see on a post card.
Then in September 2017, its main volcano began erupting. By April 2018, the eruptions had become so intense that the Vanuatu government ordered a total evacuation of the island. All 11,000 people on the island were compelled to leave their homes and fields, clambering aboard ferries to an uncertain life on nearby islands. Some stayed in crowded houses with relatives. Many others stayed in makeshift tent camps.
ABM responded in 2017 by funding the Anglican Church of Melanesia (ACOM) to provide evacuees with relief supplies and counselling, as well as water and sanitation facilities. Then following the total evacuation in 2018, we sent more funds to ACOM to provide further relief supplies to evacuees who had moved to Maewo and Santo Islands, as well as to install water and sanitation facilities, as the Melanesian Brothers moved their mission centre from Ambae to Malo Island.
ABM's current emergency response program in Vanuatu is expected to end this month. However, ABM continues to support the people of Vanuatu, including those from Ambae, through our programs. We continue to need your help with these programs. We support ACOM to organise community-based literacy classes. With help from the Australian NGO Cooperation Program (ANCP) and Australian Aid, we also fund ACOM to provide disaster preparedness training to church personnel and to communities, and to install water and sanitation facilities for communities.
In 2019, some Ambae people have begun returning to Ambae to begin the daunting tasks of clearing ash from their gardens and repairing their homes. Vanuatu's government will slowly restore some government services to Ambae. We have helped Ambae people during a difficult time. ABM thanks our supporters in Australia as well as the hard work of ACOM and the resilience of the Ambae people.
Please donate here if you'd like to support the continuing ACOM disaster recovery and preparedness activities for the people of Ambae. Please select Vanuatu WASH and DRR on the drop down menu.
< Back