ABM Archive Website
THIS WEBSITE CONTAINS ARCHIVE MATERIALS FOR HISTORICAL REFERENCE ONLY
For up-to-date information, including our latest appeals, news, and resources, please visit our current website.
Update: Humanitarian Response to Syria crisis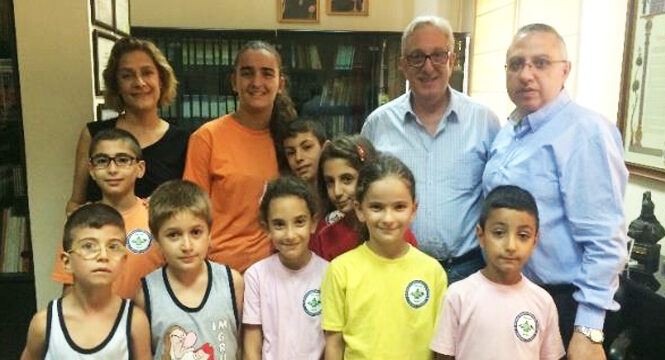 A focus group with children. © ACT Alliance. Used with permission.
June 2018
As Christians we often talk about being part of the body of Christ. While each part of the body may be able to do a little on its own, it is only when in works in partnership with other parts that more can be achieved. This analogy reminds us that by working together with our partners as that body, each with different roles and responsibilities, then we can achieve many and great things.
ABM's involvement with the humanitarian response to the crisis in Syria has been such an experience. While ABM didn't have any partners able to respond in Syria, through the Action by Churches Together (ACT) Alliance and their partners, we have been able to make a significant impact in the lives of people affected by the conflict in Syria. For more information about how the ACT Alliance works, please visit https://actalliance.org/about/.
Since 2015, ABM has sent over $20,000 to ACT Alliance for the response in Syria and with refugees in neighbouring countries. We thank the generous ABM supporters who have contributed to this appeal – you too have been part of this life saving work done by the body of Christ. ABM would also like to thank the ACT Alliance Partners and their staff who are implementing the projects which delivered these services: they are the hands and feet of the body of Christ who put the money ABM and other donors send to good work.
ACT Alliance recently released a series of reports about the activities they coordinated in Syria, Lebanon and Jordan in 2016 and 2017. These are multi-sectoral relief programs covering food relief, health, psycho-social, livelihoods, etc. ABM funds contributed to the responses by the International Orthodox Christian Charities (IOCC) in Lebanon and Syria, the Middle East Council of Churches (MECC) in Syria and the Department of Service to Palestinian Refugees (DSPR) in Lebanon and Jordan.
Below is just a summary of some key achievements by these ACT Alliance partners made possible by your generosity. You can read about the entire response in more detail here http://actalliance.org/where-we-work/syria/.
Lebanon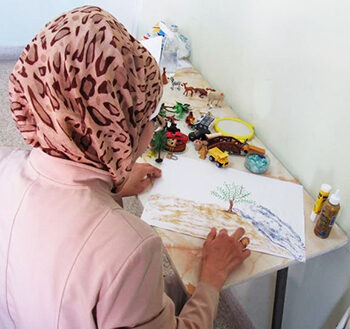 A student in a Psychosocial Support Art Therapy session.


© ACT Alliance. Used with permission.
In addition to providing food and hygiene vouchers to 500 displaced Syrian families and shelters to 40, DSPR focused on Syrian students to try and ensure they were able to continue their education despite the crisis. In 2016, 607 students received regular classes using the Syrian curriculum, 108 students benefited from the tutoring program and 60% of these students participated in Psychosocial Support (PSS). In 2017, the enrolment had increased to 962 students. Not only did this program benefit Syrian students, as DSPR employed 50 people in 2016 and 53 in 2017, from the Syrian refugee community as teachers, supervisors etc, providing meaningful employment and income for families who have suffered and lost so much.
IOCC provided education and livelihood support to Syrian refugees and vulnerable Lebanese. A pilot community livelihood project involved 38 people and 50 minority refugee children benefited from educational material, tools and stationary. Furthermore, 128 Syrian refugee and Lebanese students benefited from improved water and sanitation (WASH) facilities at their school.
Jordan
DSPR met the initial critical needs of displaced Syrian families by providing food and non-food items (NFIs) packages to 14,946 families in 2016 and 3415 in 2017. They also provided health awareness sessions and referred 2,199 people in 2016 and 1405 in 2017 for medical treatment. Knowing that simply meeting physical needs is not enough, Mother Support Group (MSG) meetings were held to provide women with children a chance "to gain needed skills and adequate knowledge to face the needs of their infants and children in non- comfortable circumstances". This was complemented by life-skills trainings and support for women to start their own small businesses. Children and youth were also encouraged to participate as they were able.
In addition to providing 43 Syrian and vulnerable Jordanian families with rental assistance, IOCC focused on Syrian refugees with visual and hearing disabilities. They provided 250 children with glasses and trained their parents on the care and use of them. 51 refugees were identified as needing hearing aids and will receive them in 2018. To ensure the needs of refugees with disabilities continue to be considered in the response, 30 refugees are receiving training disability awareness.
Syria
MECC provided a range of services to internally displaced people (IDP's) to improve their living conditions. One of these projects employed 72 men to remove accumulated waste from near houses in Dara'a. In addition to the family of those men having cash income, this activity benefited the 75,570 community member living in those areas and reduced the risk of illness from unhygienic conditions and improved their local area. Another project provided access to safe drinking water and hygienic toilets through rehabilitation of the existing WASH facilities in 3 schools in Damascus governorate, benefiting 1462 students.
IOCC worked to both meet initial critical needs through food and non-food item parcels and support longer term recovery through assisting students to continue their studies. 48,113 individuals from 12,200 families received food parcels and 6,926 individuals benefited from the distribution of bedding kits and clothing kits. 524 students received tuition fees with 608 students in total enrolled in remedial classes.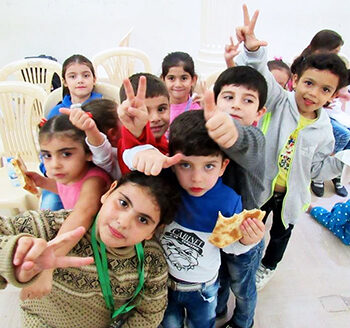 Your gift is helping children such as these.


© ACT Alliance. Used with permission.

ACT Alliance reports "Without an imminent political solution, violence in Syria and further displacement is likely to continue through 2018, resulting in further impoverishment and destitution for thousands of war-affected families". ABM is still collecting funds for this appeal to send to ACT Alliance. Please consider how you can be part of the Body of Christ in this response. Donate to the ABM Syria Emergency Appeal.
< Back