ABM Archive Website
THIS WEBSITE CONTAINS ARCHIVE MATERIALS FOR HISTORICAL REFERENCE ONLY
For up-to-date information, including our latest appeals, news, and resources, please visit our current website.
Update: People return to Ambae in Vanuatu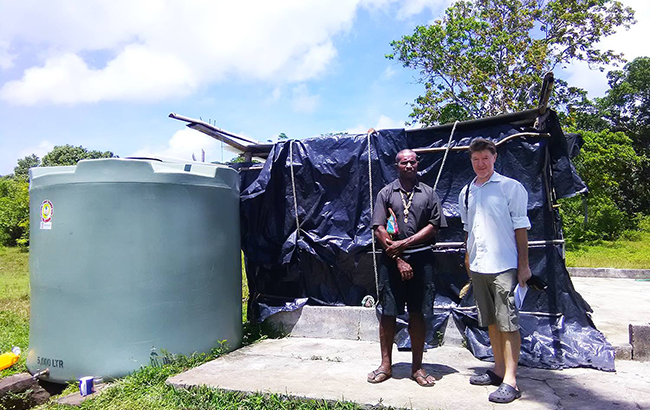 The Head of the Melanesian Brothers with Dr Terry Russell, ABM's Effectiveness and Learning Coordinator, on Malo Island.
May 2019
Following last year's volcanic eruptions on Ambae Island, Vanuatu, there's good news. The people who evacuated the island in 2018 have now safely returned. Back in 2018, ABM's partner the Anglican Church of Melanesia (ACOM) relocated Anglican education institutes away from Ambae Island.
As Ambae people were forced to flee the eruptions, ACOM provided food relief to 22 teachers and their families, 746 students, 44 Melanesian Brothers and 1,300 other Ambae community members, including many non-Anglicans.
In addition, teachers were provided with temporary accommodation, and the Melanesian Brothers were assisted to relocate their Vanuatu headquarters from Ambae Island to Malo Island.
When ABM visited Malo, Santo and Maewo islands in Vanuatu in March 2019, we found that almost no people remained displaced as most had returned to Ambae Island. Schools on Ambae Island had begun re-opening. In addition, local people had contributed materials and labour to the construction of the Melanesian Brothers' new HQ on Malo Island.
ABM acknowledges the excellent local contributions that ACOM was able to draw on, as well as the contributions from ABM supporters and Anglicans around the world.
If ABM supporters wish to support the continuing ACOM disaster recovery and preparedness activities for the people of Ambae and nearby islands, please donate here to the Vanuatu WASH and Disaster Risk Reduction project on the drop down menu.
< Back