ABM Archive Website
THIS WEBSITE CONTAINS ARCHIVE MATERIALS FOR HISTORICAL REFERENCE ONLY
For up-to-date information, including our latest appeals, news, and resources, please visit our current website.
Update: PNG Earthquake Emergency Appeal
December 2018

HIGHLANDS PNG COMMUNITIES RECEIVE CHRISTMAS PRESENT FROM ABM PARTNERS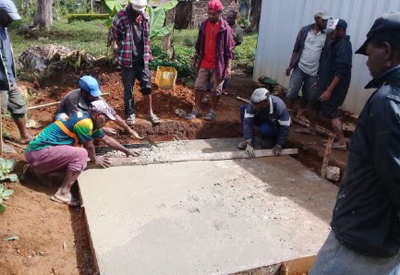 Volunteers working on a concrete slab basement at Yaken Aid post.
© Anglicare PNG. 2018.
On 26 February 2018, a 7.5 magnitude earthquake hit the Highlands Region of Papua New Guinea (PNG), affecting an estimated 270,000 people, including 125,000 children. How did ABM respond?
ABM, Anglicare PNG and the Anglican Church of PNG quickly resolved to work together, pooling funds and dispatching a representative to join a multi-faith team (the Church Partnership Program team) to survey the damage. As the needs of affected communities changed, the Anglican response focused on providing water tanks and sanitation awareness-raising. Transporting the tanks up into the remote highlands was a logistics challenge, however by Christmas 2018, Anglicare PNG had overseen the installation of fourteen water tanks in villages near the town of Mendi in Southern Highlands Province.
Local communities provided volunteers to help with installation. These volunteers learned new hands-on skills in plumbing, guttering, concrete slab base construction, handling of power tools and other basic techniques. Some community members also learned about hygiene and sanitation, including how the new water supply could assist with hygiene and sanitation.
The Anglican response was an excellent example of inter-faith cooperation. All of the assisted communities were non-Anglican but cooperation was secured through the Anglicans' close coordination with other churches. The Anglican response also gained cost reductions by utilising some of the logistics provided through the Australian Aid-funded Church Partnership Program response to the earthquake.
ABM thanks our supporters, Anglicare, the Anglican Church of PNG, local communities and the Australian Aid-funded Church Partnership Program. By working together, we have improved lives in the highlands of PNG.

The Church Partnership Program is supported by the Australian
Government through the Papua New Guinea–Australia Partnership
< Back