ABM Archive Website
THIS WEBSITE CONTAINS ARCHIVE MATERIALS FOR HISTORICAL REFERENCE ONLY
For up-to-date information, including our latest appeals, news, and resources, please visit our current website.
Update: PNG Earthquake Emergency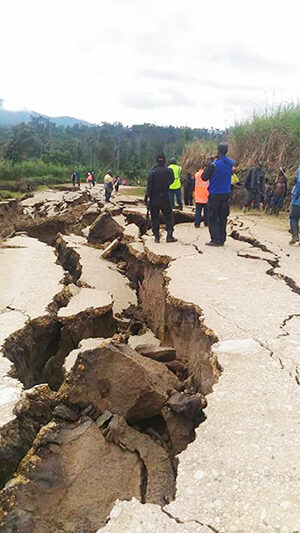 Earthquake damage in Komo, Hela Province. © Ian Banner.
August 2018
A magnitude 7.5 earthquake hit PNG on 26 February 2018, devastating communities in the Southern Highlands and Hela province.
Thank you to our supporters who responded by donating generously, enabling ABM to provide AUD $46,663.87 to our local partner Anglicare PNG. With support also coming from the Anglican Communion and the Anglican Church of PNG, Anglicare PNG, working with local communities, will install water tanks and toilets in at least five earthquake-affected schools. Anglicare PNG will also conduct hygiene awareness-raising in the schools.
As the affected communities were remote, and were rendered even more remote by damage to roads and telecommunications infrastructure, Anglicare PNG is coordinating with a larger Australian AID-funded program which will transport materials to key points in the highlands. Anglicare hopes to complete the project by November 2018.
We send best wishes and heartfelt prayers to Anglicare PNG for its work in such a remote location.
< Back