ABM Archive Website
THIS WEBSITE CONTAINS ARCHIVE MATERIALS FOR HISTORICAL REFERENCE ONLY
For up-to-date information, including our latest appeals, news, and resources, please visit our current website.
Ethiopia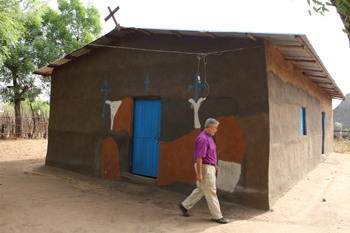 Bishop

Grant LeMarquand

walks outside St Luke's Gambella.
© Julianne Stewart/ABM, 2013.
In Ethiopia, ABM works with the Diocese of Egypt with North Africa and the Horn of Africa, which is one of four dioceses of the Episcopal/Anglican Church in the Province of Jerusalem and the Middle East.
The Diocese covers a vast area – Tunisia, Algeria, Libya, Eritrea, Ethiopia, Egypt, Somalia and Djibouti – with over 100 congregations and seeks to continue to build bridges within local communities through their message of hope and practical concern and care.
To this end, the church offers opportunities for people to meet together, activities for youth, literacy classes, basic health education and medical care especially for women and children, and care for the many refugees flooding into Egypt and Ethiopia.
ABM has funded projects in Ethiopia since 2008 and also provided emergency humanitarian assistance in late 2013 for South Sudanese refugees.

2016 Project in Ethiopia
Community Development Program
> You can learn more about ABM's Programs here
A Tale of Two Sheds
This short documentary tells of the hardship experienced by families such as Eden's family, who live in Addis Ababa, Ethiopia. It is where ABM supports the Anglican Church's community library project, providing a space for students, and improving their chances for a better education and future.
Bishop Grant and Dr. Wendy LeMarquand's Blog
The Right Rev Dr Grant LeMarquand is Area Bishop for the Horn of Africa in the Diocese of Egypt with North Africa and the Horn of Africa. He and his wife, Dr WendyLeMarquand, have a blog where you can read all about their work and news from Ethiopia. Click on this link – http://www.grantandwendy.com/