ABM Archive Website
THIS WEBSITE CONTAINS ARCHIVE MATERIALS FOR HISTORICAL REFERENCE ONLY
For up-to-date information, including our latest appeals, news, and resources, please visit our current website.
2015 Ethiopia:Community Library, Addis Ababa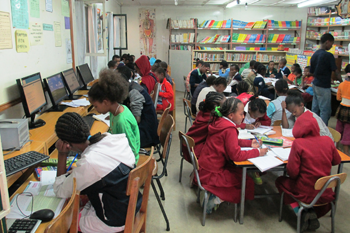 The library is filled to capacity during each school day, with
often a line outside for those waiting to come in.
© Rev Roger Kay, St Matthew's Anglican Church & School,
Ethiopia 2014.
Over 1800 students are registered to use St Matthew's library and between 200 to 350 students use the library each day.
During the last year, funds committed to St Matthew's library were used to upgrade several facilities, in addition to the general running costs, staff salaries, and support for 100 vulnerable students.
All six of the library's computers were connected to the internet which has increased computer usage exponentially, with students reportedly ecstatic with this new resource for learning.
One librarian said, "This [internet access] will encourage students to come to the library every day to get up-to-date information to upgrade their knowledge and be able to compete with other students especially with those who learn in private and international schools.
A total of 348 text and reference books were purchased, which has allowed students to freely access the current material necessary for studying and excelling in their national exams.
ABM is continuing to fund the library as it is serving the needs of the local students and plays a valuable role in supporting their education. Your generous tax-deductible donation will continue to offer these much-needed services.
ET002CL – Community Library needs $17,600 in 2015
HOW TO DONATE
You can make an online donation to this project by selecting Ethiopia: Community Library, Addis Ababa from the full project list.
Alternatively, for donations by cheque/money order (made out to the Anglican Board of Mission – Australia), telephone or email, view contact details here. Please don't forget to include the project name and/or code with your payment details.
Project Update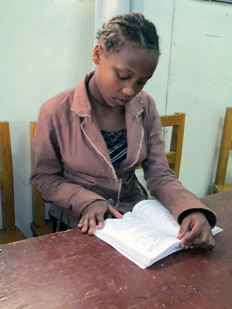 Ethiopian student Rediet Oda.
© St Matthew's 2015
June 2015 – St Matthew's library now has 1970 registered users. Here is a testimonial from one of the students:
"My name is Rediet Oda, I am 12 and I am in grade 6. I live with my parents together with my two brothers and five sisters. My father is a weaver (doing traditional cloths) and my mother is a garbage collector. We live in a local government house which has only one room for everything.
"When I came to the St Matthew's Community Library two years ago, I have found everything I want; books, pens & pencils, friends who can help me, and reading space as well. In addition to this I get pre-school support in the beginning of each year and I participate in different tutorial programs which are organised in the library.
"Since my parents can't afford to buy educational materials, I was not competitive in my class. But now, thanks to this library, I am successful in my education and even my result is improving from time to time and now I am among the top ten students in my class."