ABM Archive Website
THIS WEBSITE CONTAINS ARCHIVE MATERIALS FOR HISTORICAL REFERENCE ONLY
For up-to-date information, including our latest appeals, news, and resources, please visit our current website.
Update for St Matthew's library
31 July 2014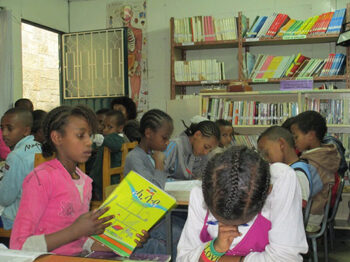 Students in St Matthew's library. ©The Episcopal/Anglican
Diocese of Egypt 2013
Number of students using the library per day = between 200 and 350
Number of students registered to use the library = 1,800
During the last financial year, funds committed to St. Matthew's library were used to upgrade several facilities, in addition to the general running costs, staff salaries, and support for 100 vulnerable students. This upgrade included a rewiring of the library's electrical system, deemed to be inadequate for the increased demand of services, and necessary to prevent power outages damaging the computers. One new computer was purchased to replace an older one, and all six of the library's computers were connected to the internet. This has increased computer usage exponentially, with student reportedly ecstatic with this new resource for learning.
One librarian has noted: "This (internet access) will encourage students to come to the library every day to get up-to-date information to upgrade their knowledge and be able to compete with other students especially with those who learn in private and International schools."

A total of 348 text and reference books were also purchased, and are based on the new national curriculum. This has allowed students to freely access the current material, necessary for studying and excelling in their national exams in June. Several student wrote their thanks to ABM donors for this valuable service:
"First of all I will thank for give me this chance to study in this library because in my home I haven't any reference books to study so when I came in this library I get what I want to read. I started using in this library when I was grade 8. Now I am grade 11 students. I am the lucky to get this chance."
– Abraham, a Grade 11 student
"This library means a lot to me. My family have no money to buy extra books this means reference books but I can get them free in this library. There are enough materials; I have also friends who help me and a very good staff. Thank you so much."
– Geremew, 1st year university student
"First of all thank you give me this chance to write about St. Matthew's library. I am grade 7 student. This library is a very important place to study. There are a lot of books and I will continue reading here up to grade 12. I tell you the truth I will be a good doctor in the future. Thank You."
– Yohannis, a Grade 7 student

Many thanks to all our generous donors for their continued support of the students at St. Matthews, and their contribution toward securing the future of Ethiopia through education. It has made the world of difference to so many.