ABM Archive Website
THIS WEBSITE CONTAINS ARCHIVE MATERIALS FOR HISTORICAL REFERENCE ONLY
For up-to-date information, including our latest appeals, news, and resources, please visit our current website.
Ethiopia: Community Library

This is part of the Church to Church Program: Learn more about ABM's Programs here
There are now 1,970 registered users of the Community Library in Addis Ababa. The library is a resource for local students to study and access the internet.
Three students share how the library assists them.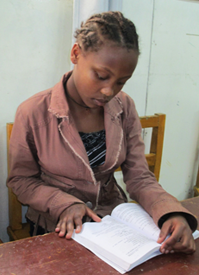 Rediet Oda, 12 years old
I am in grade 6 and I live with my parents together with my two brothers and five sisters. My father is a weaver (doing traditional cloths) and my mother is a garbage collector. We live in a local government house which has only one room for everything.
When I came to the St Matthew's Community Library two years ago, I found everything I want; books, pens and pencils, friends who can help me, and reading space as well.
Since my parents can't afford to buy educational materials, I was not competitive in my class. But now, thanks to this library, I am successful in my education and even my result is improving from time to time and now I am among the top ten students in my class.
Hawi Eshetu, 12 years old
I will be in grade 8 in the next academic year. I live with my parents and my brother. My father is a stone mason (on a daily basis) and my mother bakes Injera (traditional food) in the women's association.
I have been using the St Matthew's Community Library since 2012. I come here every day to study because I get different books which my parents can't afford to buy and I get reading space since our home is very small with no place to study. In addition, I get a preschool support in the beginning of each year and I participate in different tutorial programs.
I prefer this library to other school and public libraries because I can come here any time to get books I want and study together with my friends. I am now successful in my education and score very good results.
Kaleab Alemayehu, 17 years old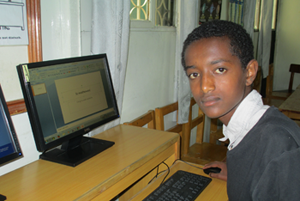 I am the only son for my family and I am from Ethiopian parents who have barely enough monthly income.
I have been using this library for six years and I am very happy to be a member of St Matthew's Community Library. My parents can't afford to buy every material that I need so I prefer to come here for further reading.
I prefer to use the library because I can study together with my friends. This library is unique from others because it has a variety of books, text materials and exam papers. The library gives free internet service which helps us to browse for our assignments.
I have had big success after using this library and the reason behind this is that the library community are willing to help each other in educational purposes. In general, St Matthew's Community Library allows students of Ethiopia to achieve a better education level and build their capacity to compete in international levels.
(ET004CL is non tax-deductible)
HOW TO DONATE
You can make an online donation to this project.

Alternatively, for donations by cheque/money order (made out to the Anglican Board of Mission – Australia), telephone or email, view contact details here. Please don't forget to include the project name and/or code with your payment details.
Gifts to ABM will be applied to the support of project(s) selected. In the unlikely event of the project being oversubscribed or not proceeding to completion, donations will be applied to a similar project to the one(s) selected.
< Back