ABM Archive Website
THIS WEBSITE CONTAINS ARCHIVE MATERIALS FOR HISTORICAL REFERENCE ONLY
For up-to-date information, including our latest appeals, news, and resources, please visit our current website.
General Community Development Fund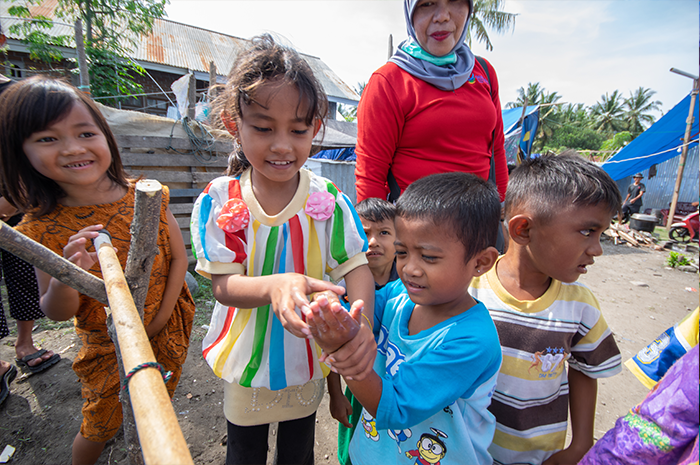 Children in Central Sulawesi using soap from hygiene kits provided by ACT Indonesia. © Simon Chambers/ACT.
Help us reach those in need
We all know that we can often achieve so much more together than if we just try to do something on our own. That is why ABM is connected to two international networks and a regional one.
The Anglican Alliance, established about 10 years ago to bring together the strengths of Anglican churches around the Communion, is one of these networks. During COVID-19 the Alliance rang around the Communion to learn what the main concerns of churches were. This revealed the economic impact of COVID-19, due to general and localised lock-downs, school closures, and fears of children being trafficked to work in the fishing and cocoa industries in parts of Africa. From the networking coordinated by the Anglican Alliance, ABM was able to send funds to South Sudan and the Council of Anglican Provinces of Africa for their COVID-19 response – helping out some of the most vulnerable people across that continent.
Action by Churches Together (ACT) Alliance is the development, advocacy and humanitarian arm of the World Council of Churches. ABM's membership of this ecumenical organisation enables us to respond to disasters in places where we do not have regular partners. Its accreditation system and commitment to high standards of practice let ABM have the confidence to fund disasters where we would not have the resources to do our own due diligence. Through your support, ABM has also been able to fund local partners to attend high quality ACT Alliance trainings on topics such as Climate Change Advocacy and Disaster Response.
Last year ABM funded two of its Philippine partners to attend regional training in Climate Change Advocacy in Iloilo in the Visayas, and two staff members from Kenyan partner, Anglican Development Services, Eastern, to attend a similar workshop in Malawi.
After the Malawi workshop, one of the staff members, John, said, "The workshop learning will help in developing ADSE's advocacy strategies, sharing platforms and enhance our participation globally for the benefit of our community in climate change adaptation."
Another staff member, Jenniffer, added, "We should work on ensuring climate justice is done."
Closer to home, ABM's membership of the Church Agencies Network Disaster Operations (CAN DO) gives ABM and its Pacific partners access to large grant funding from the Australian Humanitarian Program. Most recently this has meant funding support for local partners' COVID-19 response work in Papua New Guinea and Vanuatu. In Papua New Guinea, Anglicare PNG is working with Anglican dioceses in Popondetta and New Guinea Islands to raise awareness of the virus and install 19 water tanks. In Vanuatu, the Anglican Church of Melanesia is raising COVID-19 awareness and installing or repairing water supply systems in 18 communities in SANMA and PENAMA provinces.
Your support of ABM's General Community Development Fund will enable ABM to access further funding so that more of this important work can happen, both in our region and in any part of the world where there is great need.
» In 2021 the General Community Development Fund needs $144,000 (tax-deductible)
HOW TO DONATE

*An Anglican response to an emergency is one that is started and managed by local Anglicans, and is committed to helping the most affected people who may or may not be Anglicans themselves.