ABM Archive Website
THIS WEBSITE CONTAINS ARCHIVE MATERIALS FOR HISTORICAL REFERENCE ONLY
For up-to-date information, including our latest appeals, news, and resources, please visit our current website.
General Global Fund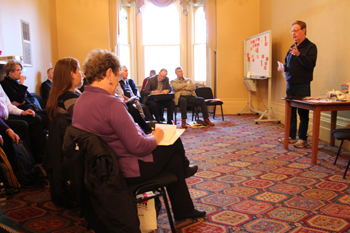 ABM Diocesan Representatives at the 2013 Melbourne Conference.
© ABM/Brad Chapman 2013
The Anglican Board of Mission has a holistic view of God's mission. We work with Anglican Church partners and others to see lives empowered and transformed spiritually, materially and socially. All of ABM's work in the field with our Partners is made easier by the relationships that we have. We often talk about the relationships with our Partners, which you generously support through prayer and donations.
These relationships vary in their complexity and breadth. We have some formal agreements with dioceses within Australia to carry out mission and development work on their behalf. We have working relationships with other Anglican agencies around the world to work together in certain countries but to also ensure that we're not doubling up in other countries. There are also relationships that ABM has with other Christian agencies in Australia and overseas.
As the national mission agency of the Anglican Church of Australia, we sometimes undertake work for the Church, whether it's acting as representative at a Primate's enthronement, or facilitating a visit to Australia from someone around the Communion.
To make all of this happen and coordinate our regular programs, there is a significant amount of work that happens behind the scenes such as our financial department, governance bodies and administrative staff. For ABM to effectively communicate across the country, our Diocesan Representatives gather once a year and our Auxiliary members also meet annually. The costs associated with this other work do not come out of the money that you give for projects, but from the money that is kindly donated for ABM to continue its purpose of serving the Church. These funds continually need replenishing.
If you would like to support the work of ABM and help strengthen all of our work as well as our partner relationships please make your donation to the General Global Fund.
XG005GZ – General Global Fund needs $110,000 in 2015 (non tax-deductible)
HOW TO DONATE
You can make an online donation to this project by selecting A General Gift to ABM's Work from the full project list.
Alternatively, for donations by cheque/money order (made out to the Anglican Board of Mission – Australia), telephone or email, view contact details here. Please don't forget to include the project name and/or code with your payment details.