ABM Archive Website
THIS WEBSITE CONTAINS ARCHIVE MATERIALS FOR HISTORICAL REFERENCE ONLY
For up-to-date information, including our latest appeals, news, and resources, please visit our current website.
Anglican Alliance Support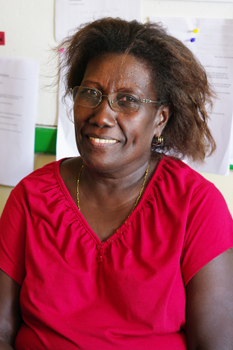 Tagolyn Kabekabe.
© ABM/Vivienne For 2013
The Anglican Alliance has a mandate to bring together development, relief and advocacy work across the Communion. Its mission is to build a world free of poverty and injustice. Churches and agencies working together worldwide.
To support relief, the Alliance helps the Anglican response to emergencies. Empowering 80 million Anglicans on the ground, closest to the need. It also has an aim to advocate, to speak out against injustice and be a voice for the powerless. At global level, national level, and in every community.
Tagolyn Kabekabe, the Pacific Facilitator for the Alliance is based in the Solomon Islands and works to keep abreast of issues in the Pacific and facilitate relationships. She told ABM,
"It's a good role, connecting the people in the Pacific, but actually it's not only the Pacific Islands, it's Papua New Guinea, the Solomon Islands, Vanuatu and Fiji."
"I have contact with people in lots of places. I have this woman from Tonga, Reverend Lola. She actually helps to support, something like a crisis centre in Tonga, so she works there and I get feedback from her and lots of people on the ground," Tagolyn said.
"I get to talk to the other facilitators and meet lots of people. There are facilitators in Brazil, South America and the Caribbean and in Bangladesh. There have been quite a lot of things happening in South East Asia, especially in Bangladesh. We are actually working on a trafficking paper to take to the UN, so we all work together."
This development, relief and advocacy work cannot be done without the Anglican partners around the world. ABM supports the Alliance by being a partner and contributing $50,000 to the Alliance's work. Donations to the Anglican Alliance Support project are tax-deductible.
XG011ZD Anglican Alliance Support needs $50,000 in 2015
HOW TO DONATE
You can make an online donation to this project by selecting Anglican Alliance Support from the full project list.
Alternatively, for donations by cheque/money order (made out to the Anglican Board of Mission – Australia), telephone or email, view contact details here. Please don't forget to include the project name and/or code with your payment details.
Pacific Islands churches speak about Climate Change
Tagolyn Kabekabe traveled to the 2014 C20 Summit in Australia in her capacity as the Pacific Facilitator for the Anglican Alliance, to deliver an urgent message from Pacific Islands churches about climate change. You can find out more about the C20 Summit at http://www.c20.org.au.