ABM Archive Website
THIS WEBSITE CONTAINS ARCHIVE MATERIALS FOR HISTORICAL REFERENCE ONLY
For up-to-date information, including our latest appeals, news, and resources, please visit our current website.
2016 General Community Development Fund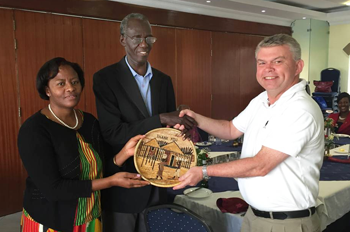 Archbishop Eliud and Mrs Rhoda Wabukala with Rev John Deane
at an Anglican Alliance meeting in 2015. Used with permission.
(This is part of the Community Development Program: Learn more about ABM's Programs here)
Like many not-for-profits, ABM chooses to contribute to other organisations that are working to achieve similar goals. With all work grounded in the Five Marks of Mission, ABM asks donors to support this General Community Development Fund that contributes to support of the Anglican Alliance, Transparency International and the Council of Anglican Provinces of Africa, amongst other things.
The Anglican Alliance brings together those in the Anglican family of churches and agencies to work for a world free of poverty and injustice, to be a voice for the voiceless, to reconcile those in conflict and to safeguard the earth.
Dr Julianne Stewart, ABM's Programs Director said it was most important for ABM to support the work of the Anglican Alliance and be a part of those international conversations.
Another example of the Alliance in action is ABM's Philippine partner, E-CARE, who annually provide community development training to other church partners in the region.
"The purpose of the Anglican Alliance is to put Anglican Churches around the world in touch with each other, to share stories of their development, advocacy and relief work and to engage in shared learning. Advocacy might include anything from Climate Change to Human Trafficking.
For development, some of the priority areas include the economic empowerment of women and youth, and food security," she said.
ABM's partners are involved in three of the Anglican Alliance's regional structures, in the Pacific, South East Asia, and Africa. ABM also supports an Aboriginal priest to attend the Pacific meetings and to be part of these important conversations.
ABM also belongs to Transparency International (TI) which tackles corruption around the world. TI aims to give voice to the victims and witnesses of corruption. It works together with governments, businesses and citizens to stop the abuse of power, bribery and secret deals. TI has offices and chapters in many of our partner countries including Papua New Guinea and the Solomon Islands.
Another example of what the fundraising from this project goes towards is the Council of Anglican Provinces of Africa with its goal to coordinate and articulate issues affecting the Church and communities across various regions of Africa, and to train churches to have a strong advocacy role in these regional hubs. Your support of this project enables our partners to get together and learn from each other as well as allowing ABM to assist organisations that work in our partner countries.
XG011 needs $120,000 in 2016 (tax-deductible)
HOW TO DONATE
You can make an online donation to this project by selecting Overseas Development Program Untied Fund from the full project list.
Alternatively, for donations by cheque/money order (made out to the Anglican Board of Mission – Australia), telephone or email, view contact details here. Please don't forget to include the project name and/or code with your payment details.
Gifts to ABM will be applied to the support of project(s) selected. In the unlikely event of the project being oversubscribed or not proceeding to completion, donations will be applied to a similar project to the one(s) selected.