ABM Archive Website
THIS WEBSITE CONTAINS ARCHIVE MATERIALS FOR HISTORICAL REFERENCE ONLY
For up-to-date information, including our latest appeals, news, and resources, please visit our current website.
General Community Development Fund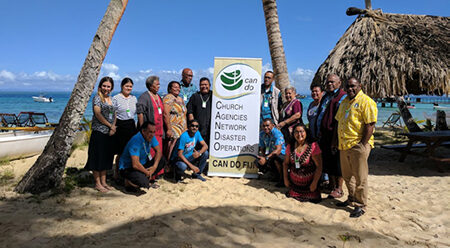 We are working with Church Partners & the Australian Government to improve
resilience & reduce impact of disasters in the Pacific. © CAN DO, 2017 used with
permission.
This is part of the Community Development Program: Learn more about ABM's Programs
An illustration of God's love and our mission in action – it's powerful that ABM can tell you how many people were given access to safe water in 2016
through its various programs and more importantly, how this impacted these people's lives. To know the effectiveness of programs that impact more than 8,700 people means your gift can go further to offer more people the same impact.
This work in measurement and evaluating effectiveness is possible thanks to funding from the General
Community Development Fund. At the core of much of ABM's work is partnership and capacity building. To ensure we do this effectively, ABM staff work hard to evaluate the impact and outcomes of each project.
Funds given to this project enable ABM to engage in quality assurance and continual improvement of its
development programs and disaster responses, through a program effectiveness process. In recent years
funding from this project has enabled ABM to produce an annual effectiveness report, training for partners, and to analyse and improve upon how it works with partners to deliver its programs.
ABM also seeks to support other work grounded in the Five Marks of Mission and consequently, partners
with, and supports, other organisations so that we may continue to achieve the same goals.
Donations given to this fund enable ABM to engage in disaster preparedness, via the ecumenical CAN DO (Church Agencies Network Disaster Operations) consortium and to respond to disasters through both the ecumenical Christian Action by Churches Together (ACT) Alliance, and the Anglican Alliance.
The work of these three multi-agency organisations need funds with which to operate small secretariats
which coordinate the vital humanitarian work of the organisations, and your donation to this fund is ABM's contribution to the running of these secretariats.
CAN DO and the Anglican Alliance are also involved in disaster preparedness, assisting ABM's partners.
Anglican Alliance is further involved in helping Anglican Churches to better coordinate their disaster responses, development work, and their important advocacy to governments on topics such as climate change, human trafficking, violence against women, and poverty.
Please give to this fund that, in so many different ways, helps ABM further its community development work and ensure effectiveness.
XG011ZD needs $53,958 in 2018 (tax-deductible)
HOW TO DONATE
You can make an online donation to this project.

Alternatively, for donations by cheque/money order (made out to the Anglican Board of Mission – Australia), telephone or email, view contact details here. Please don't forget to include the project name and/or code with your payment details.
Gifts to ABM will be applied to the support of project(s) selected. In the unlikely event of the project being oversubscribed or not proceeding to completion, donations will be applied to a similar project to the one(s) selected.