ABM Archive Website
THIS WEBSITE CONTAINS ARCHIVE MATERIALS FOR HISTORICAL REFERENCE ONLY
For up-to-date information, including our latest appeals, news, and resources, please visit our current website.
2017 Al-Ahli Arab Hospital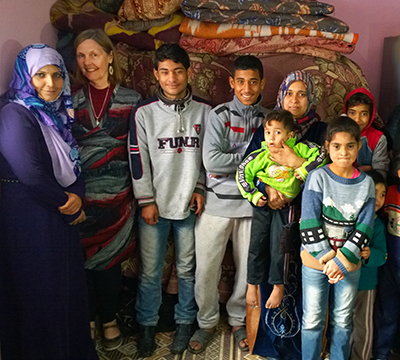 Abdullah in the green top is a graduate of the Ahli Program. He is pictured
here with his family and social worker, and Julianne Stewart.
© ABM 2016.
This is part of the Community Development Program: Learn more about ABM's Programs

In 2016, ABM and its generous supporters continued to support the Child Nutrition Program run by ABM's partner, the Al Ahli Arab Hospital (a medical facility of the Anglican Diocese of Jerusalem).
The Child Nutrition program seeks to build the heath supplements of these children and provide support to families struggling to cope. Throughout the course of three months, children are given a complete medical assessment by an expert paediatrician and a program of nutritional supplements is developed. The hospital provides the necessary supplements and monitors the children for signs of improvement.
Dr Julianne Stewart, ABM's Programs Director, visited the Gaza Strip in February. She met some of the parents and children who are benefiting from this assistance in Beit Hanoun, a poor area of Gaza, near the Israeli border. People there were very hard hit in the July 2014 bombing by the Israeli Defence Force.
Julianne met various families who had a young child go through the Ahli's Child Nutrition program. The first person she met was Manal.
Julianne said, "Manal lives in a container erected after the August 2014 bombing, and shares this with another family, since her home had been hit by the bombs. Her little two year old girl was wearing splints on her legs and lying in a makeshift bed on the floor of one of the two rooms that were occupied by two families."
Manal told Julianne, "I really thank the Ahli Hospital, for giving her support. But I stopped taking my daughter there due to the 10 shekel cost of getting to the hospital is too much. My daughter is still underweight."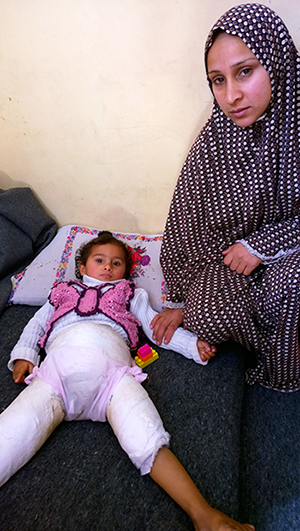 Manal and her daughter in splints
Julianne met with three year old Abdullah who completed the program and is doing well, according to the social workers and his mother, Hyat who is 34 years old. She has nine children under 18, and Abdullah is the youngest. Hyat said,
"Abdullah is doing well. I thank God he has improved. We give him his vitamins, enhanced milk, and food parcels from the Ahli. He is 12kg now."
Abdullah's father is unemployed, and struggles to feed his family. Staff members told Julianne that being underweight shouldn't be the only criterion for entering the program. Many children are anaemic, since the most common meal for poor women and children is bread and tea. It is clear there are complex needs on the Gaza Strip.
In three parts of Beit Hanoun, 200 at-risk families potentially have access to the Ahli Child Nutrition Program and other outreach programs via their local community-based organisations. These organisations and local social workers discuss cases and recommend at-risk children to the program via the Ahli social worker, Mohammad. The children and their mothers then travel by bus to the hospital to get their children assessed by the paediatrician and put on the Child Nutrition Program, if eligible (according to various indicators of malnutrition). Once on the program, mothers are counselled about nutrition, both for themselves and their families.
Julianne said, "All families are grateful for the program. Many mothers were shy when speaking to me, but their concern or happiness comes across in their facial expressions and gestures. One mother, Tahreer, said her two year old boy had improved a little after completing the program. She would like him to go for a second round of treatment so that he could continue to improve."
"I felt privileged to meet these families, and was touched by their kindness and determination in the midst of such hardships. The importance of this Child Nutrition program, not only for the vital supplements it provides to needy children, but also in the support given to mothers in health education, cannot be under-estimated. It is indeed expressing the love of Christ to those who need it the most," Julianne said.
Please support this project so children on the Gaza Strip can continue to receive quality care and nutrition support.
PS001LH needs $67,856 in 2017 (tax-deductible)
HOW TO DONATE
You can make an online donation to this project.

Alternatively, for donations by cheque/money order (made out to the Anglican Board of Mission – Australia), telephone or email, view contact details here. Please don't forget to include the project name and/or code with your payment details.
Gifts to ABM will be applied to the support of project(s) selected. In the unlikely event of the project being oversubscribed or not proceeding to completion, donations will be applied to a similar project to the one(s) selected.
PROJECT UPDATE
September 2017 – According to the Al Ahli Hospital, there is an impressive 80% success rate for health recovery through the Child Nutrition project. Read more.
December 2016 – Earlier this year, ABM's Programs Director, Dr Julianne Stewart, visited the Al-Ahli Hospital in Gaza. She spent three days in Gaza with Mrs Suhaila Terazi, the hospital's Director, and heard of the pressing problems of everyday life in this small part of the Middle East. Read more.
< Back