ABM Archive Website
THIS WEBSITE CONTAINS ARCHIVE MATERIALS FOR HISTORICAL REFERENCE ONLY
For up-to-date information, including our latest appeals, news, and resources, please visit our current website.
Al-Ahli Arab Hospital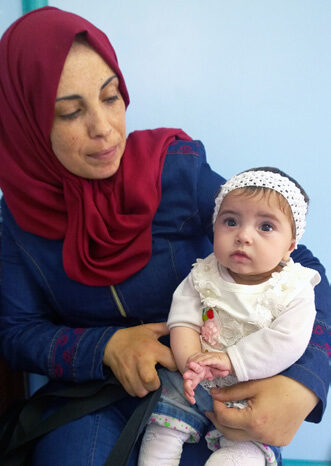 Mother and child participating in the Child Nutrition Program.
Staff at Al Ahli Hospital are able to supply vitamins and
nutrition advice to participating families.
© ABM, Julianne Stewart 2017.
This is part of the Community Development Program: Learn more about ABM's Programs

According to Al Ahli Arab Hospital in Gaza, over 80% of infants improve in health outcome through the Child Nutrition project, an extremely high success rate for health recovery.
During a visit to our partner in 2017, former ABM Programs Former Director, Dr Julianne Stewart,
met with the children and parents benefiting from the project and spoke to the nutritionist and
hospital doctors who are helping to improve the lives of so many.
The Child Nutrition project aims to intervene in cases of moderate and severely underweight infants at around six months of age. The Al Ahli Hospital sees 200 children in each three month period, with each child and their mother making
six visits to the hospital during this time.
The hospital nutritionist, Dr Suad Obaid, happily shared some current success stories she had
witnessed.
In one case, a six month old boy named Abdelrahman presented at Al Ahli Hospital as "severely wasted". His family had lost their home during the 2014 Gaza war, and are now living in an extremely small temporary shelter. His parents have a very low income, and with nine children to feed, were finding it difficult to make ends meet.
After being admitted to the program, Abdelrahman improved rapidly, growing from only 6.6kg and 70cm at six months, to 9.1kg and 75.1cm at nine months. His mother was very happy with the progress in three months, seeing her baby improve with each visit to Dr Obaid. Abdelrahman's mother also said she had learned many useful things, including new ideas Child Nutrition, Al Ahli Arab Hospital about how to prepare nutritious meals for her whole family.
In another case, Fatema was admitted to the Child Nutrition project when she was 7 months old. She was 5.8kg and severely stunted at 67cm. Her family was very poor, despite Fatema being the only child. They were living in one room of her father's family home at El Sabra, in the Gaza Strip.
Most of the income earned by Fatema's father goes toward the repayment of a loan, taken out to cover his marriage expenses.
Fatema's mother is very young, and has no experience looking after children or running a home. After three months on the program, Fatema weighed 7.2kg, and her height was 70cm. The cooperation shown by her mother, who diligently followed all the advice given to her by Al Ahli Hospital, was said to be one of the key factors in Fatema's rapid improvement.
Your donations to this project help to give these children a healthy future.
PS001LH needs $54,142 in 2018 (tax-deductible)
HOW TO DONATE
You can make an online donation to this project.

Alternatively, for donations by cheque/money order (made out to the Anglican Board of Mission – Australia), telephone or email, view contact details here. Please don't forget to include the project name and/or code with your payment details.
Gifts to ABM will be applied to the support of project(s) selected. In the unlikely event of the project being oversubscribed or not proceeding to completion, donations will be applied to a similar project to the one(s) selected.
PROJECT UPDATE
September 2017 – According to the Al Ahli Hospital, there is an impressive 80% success rate for health recovery through the Child Nutrition project. Read more.
December 2016 – Earlier this year, ABM's Programs Director, Dr Julianne Stewart, visited the Al-Ahli Hospital in Gaza. She spent three days in Gaza with Mrs Suhaila Terazi, the hospital's Director, and heard of the pressing problems of everyday life in this small part of the Middle East. Read more.
< Back