ABM Archive Website
THIS WEBSITE CONTAINS ARCHIVE MATERIALS FOR HISTORICAL REFERENCE ONLY
For up-to-date information, including our latest appeals, news, and resources, please visit our current website.
Gaza: Child Nutrition project update
September 2017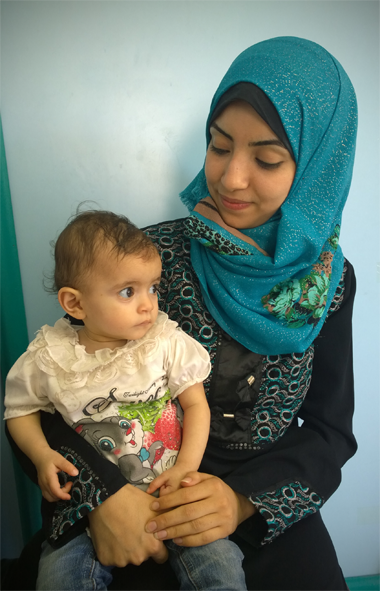 A little girl waits with her mother at Al Ahli Hospital. © ABM/
Julianne Stewart, 2017
According to the Al Ahli Hospital, there is an extremely high success rate for health recovery through the Child Nutrition project, supported by ABM.
Background
The Child Nutrition project aims to intervene in cases of moderate and severely underweight infants at around six months of age. After assessment by the Al Ahli Hospital staff, the most needy children are provided with nutritional supplements (fortified biscuits and multi-vitamins) for a 3 month period, and their mothers are also provided with education about nutrition and family planning.
There is a significant problem with poor nutrition in Gaza, with most families eating only relief food provided by the UN and other donors. Although high in calories, this food is low in nutritional value if eaten exclusively over long periods of time. This leads to what is known as "hidden hunger", a serious issue especially in early childhood.
During the 3 month intervention of the Child Nutrition project, over 80% of infants improve in health outcomes. If significant stunting has occurred (a severe impact of infant malnutrition) the recovery can take longer. In these cases, the children can re-enter the program and complete a second 3 month period, or even a third.
Overall, the Al Ahli Hospital sees 200 children in each three month period, with each child and their mother making six visits to the hospital during this time (once every 2 weeks).
ABM would like to thank all of our generous supporters who have donated towards this project. If you have been inspired by these stories of success, please visit our Al Ahli Hospital homepage for ways to support more success in the future.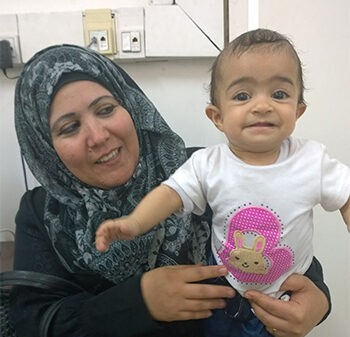 A smiling mother with her child visits Al Ahli Hospital in Gaza.


© ABM/

Julianne Stewart, 2017
Source: Interview with Dr Jihad, Professor of Public Health and Community Medicine, and interview with Dr Ahmad Madhoun, Obstetrics and Gynaecology at the Ahli, and Dr Mohyi Sharkwi, Paediatrician at the Ahli, 6 June, 2017.