ABM Archive Website
THIS WEBSITE CONTAINS ARCHIVE MATERIALS FOR HISTORICAL REFERENCE ONLY
For up-to-date information, including our latest appeals, news, and resources, please visit our current website.
Holy Land: Al-Ahli Hospital update
DECember 2016
Suhaila's Story: Sadness, Resilience and Hope
Earlier this year, ABM's Programs Director, Dr Julianne Stewart, visited the Al-Ahli Hospital in Gaza. Since ABM's last visit in early 2013, there has been another war between Israeli forces and Hamas, and subsequent further restrictions placed on people living in Gaza. Julianne spent three days in Gaza with Mrs Suhaila Terazi, the hospital's Director, and here she heard of the pressing problems of everyday life in this small part of the Middle East.
Speaking about the deteriorating living conditions for ordinary people in Gaza, especially since the August 2014 war between Israeli forces and Hamas, Suhaila comments:
"The 'cage' has become more. Before the latest war, tunnels with Egypt were open, but all are now closed. This has had a huge economic impact. 100,000 workers simply had to stop working. And, in spite of the fact that around 4,000 houses were completely destroyed, and a further 15,000 partially destroyed, there have been no materials allowed in for rebuilding. The list of goods allowed to enter Gaza is now much more controlled than before. For example, wood (which could be used to build tunnels), and even things like batteries and USBs are forbidden. Only food and humanitarian items can come in. If one family member has a record, the whole family is forbidden to leave. Most people cannot leave, and those who can are limited to business people and humanitarian workers."
It should be noted that Christians are permitted to leave on three holy days per year.
Suhaila continues:
"There is only 4 hours of electricity per day. Yesterday there was only 1.5 hours. The hospital has a gasoline generator which uses 60L per day and a further 30L each night. This fuel costs USD1.80 per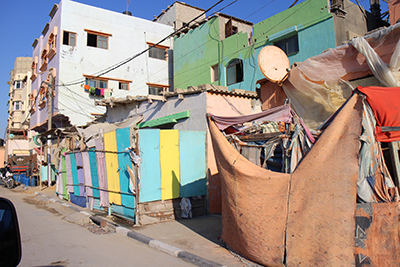 Makeshift housing in Gaza.

© Julianne Stewart/ABM, 2016
litre. So it costs USD150,000 just to power the operating theatre each year. The whole hospital costs USD400,000 per year. If the hospital had solar power these costs would reduce by 90%. But the 10 year batteries cost around USD80,000 to buy through the World Health Organisation. But, as I said, batteries and electrical wire are also hard to get. There is also a shortage of spare parts.
Suhaila comments on the situation for health in Gaza more broadly:
"A recent UN report stated that around 80% of Gazans are receiving food assistance, and there has been an increase in the number of cancer cases in the Strip. Cancers are now the second highest cause of death in Gaza. And there is a shortage of medical supplies, even in the government hospitals. They have only 35% of what is needed.
Recently the Health Minister asked Al-Ahli Hospital to take some government hospital patients (government hospitals have long waiting lists). The Al-Ahli Hospital agreed to take some of the poorest, especially children and those with ear, nose and throat (ENT) problems, charging them the minimum amount, since the hospital has a very good ENT specialist.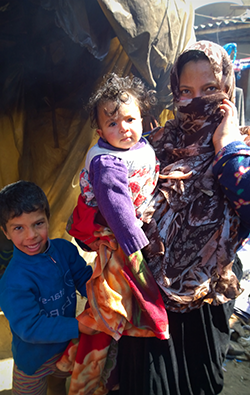 A mother with her children outside their home
in Gaza.

© Julianne Stewart/ABM, 2016
After the war, the Al-Ahli Hospital was funded to conduct a PsychoSocial Support program for the most vulnerable and affected people.
"Many of the children and adults were traumatised by the bombing. The attacks that started in August 2014 went on for 51 days. In 2015 we ran a program for 2,500 traumatised children, as well as 1,500 women and 500 men. Some had experienced the death of a child relative, some had even witnessed such deaths. Many were shy and felt worried, and found it difficult to trust people. We targeted children from poor communities, those who were disabled, living with autism etc, and their families. At the end of the four day program children started to play again, even those who had autism."
Al-Ahli Hospital also tries to give opportunities to young people who have medical training but have few, if any, jobs they can apply for.
"Unemployment is around 43%, with a large number of these being new graduates. Staff are unable to attend professional development workshops outside of Gaza, and the medical and specialist staff are getting older, with few younger ones to take their place. But at the Ahli we try to give unemployed medically trained people opportunities for on the job training. We take them for 3 months, or up to a year, and pay them full pay. This includes people who have trained as doctors, nurses, even hospital kitchen hands."
Apart from managing the Al-Ahli Hospital, Suhaila is also active in the broader Gazan community sector. She was instrumental, with others, in fundraising and establishing a flourishing day care centre for disabled children. Tragically, during the 2014 war, this building was largely destroyed. But with dedication and perseverance that seems to be the only choice for people in Gaza, it is gradually being rebuilt.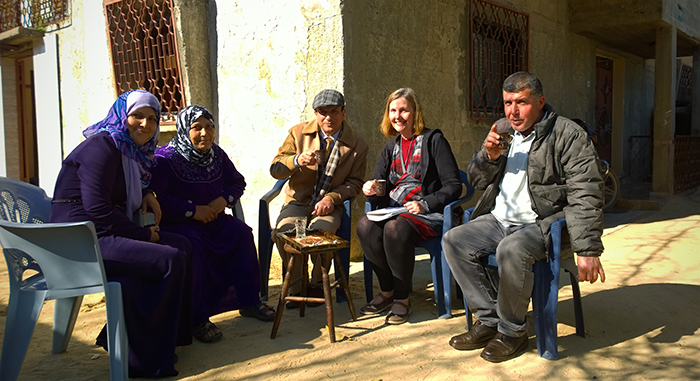 Dr Julianne Stewart shares a coffee with Al-Ahli Hospital Social Workers.

© Julianne Stewart/ABM, 2016