ABM Archive Website
THIS WEBSITE CONTAINS ARCHIVE MATERIALS FOR HISTORICAL REFERENCE ONLY
For up-to-date information, including our latest appeals, news, and resources, please visit our current website.
GOOD FRIDAY GIFT 2020: ARAB EPISCOPAL MEDICAL CENTER – DIABETIC AND CARDIOVASCULAR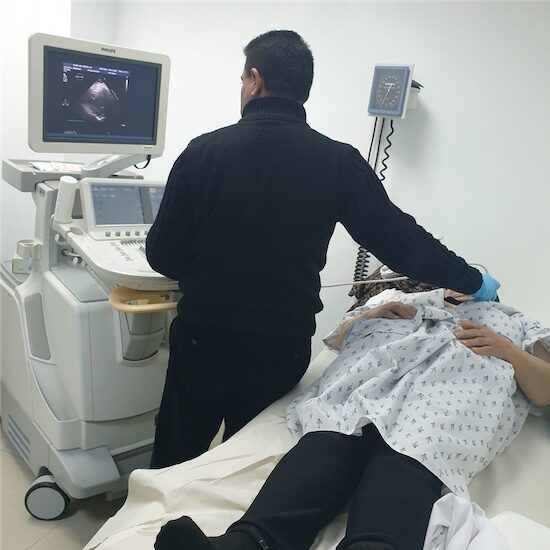 Checking a patient with diabetes for cardiovascular complications at the Medical Centre in Ramallah owned and operated by the Episcopal Church of Jerusalem
© Diocese of Jerusalem. Used with permission.
ABM's Good Friday Gift last year (2020) raised over $30,000 and was sent to support the work of the Episcopal Church of Jerusalem and the Middle East's Diabetes and Cardiovascular Centre in Ramallah, Palestine.
The gift supported the diagnosis of patients in the Ramallah area who have diabetes and who are at risk of developing cardiovascular complications. The Centre aims to reach those patients with low incomes at early stage and perform relevant diagnostic tests. People with low incomes usually don't seek the help of the healthcare system until they have a stroke, or a heart attack, or when the diabetes has led to the need for amputation of a limb.
The Centre, owned and operated by the Episcopal Diocese of Jerusalem, offers testing free of charge to patients who are unable to afford the cost. They also offer fee-for-service diagnostic services for those who can afford to pay.
When ABM invited the Church in Jerusalem to put forward a project for ABM's 2020 Good Friday Gift, they decided on this project.
The money raised was able to provide much-needed early screening services and treatments for 128 of those most in need, and who would otherwise not be able to afford to access the service. The service also provides information, education and support to patients about how best to manage their condition and measures they can take to avoid the worst complications. These measures include healthy diet and nutrition, and information about how to adopt a healthier lifestyle, including the physical exercise they need to improve their health outcomes.
In addition to benefitting the patients themselves, up to 900 family members also benefitted from having their father, mother, child or sibling, receive early diagnosis and support so they have a real chance of avoiding the worst complications of diabetes. The families also benefit from the health and nutrition information.
Former Archbishop of Jerusalem, The Right Reverend Suhail Dawani, has noted that more than 90% of people who receive the outreach services of the Diocese of Jerusalem are Muslims. This is a very real example of the interfaith commitment of the Anglican Church of Jerusalem and the Middle East.
Providing this service costs about $180 per person. But the difference it can make to someone's future cannot be measured in dollars.
The Diocese of Jerusalem and ABM would like to express deep appreciation and gratitude to all who generously supported ABM's Good Friday Gift 2020.