ABM Archive Website
THIS WEBSITE CONTAINS ARCHIVE MATERIALS FOR HISTORICAL REFERENCE ONLY
For up-to-date information, including our latest appeals, news, and resources, please visit our current website.
Good Friday Update: Diocese of Cyprus & the Gulf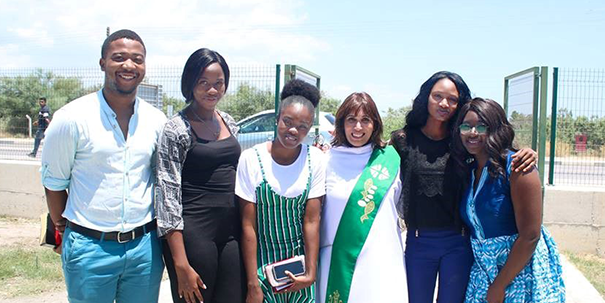 The Rev Navina Thompson, Curate at St Mark's and Student Chaplain at Eastern Mediterranean University,
with the students who graduated in June 2018. © Foto-Ozay, 2018.
Famagusta Student Chaplaincy
A Culture Within a Culture: Reflections on being a female university chaplain in Northern Cyprus
ABM has recently received a lively report from the Rev Navina Thompson, Curate at St Mark's Famagusta and Student Chaplain at the Eastern Mediterranean University (EMU) in Northern Cyprus. Led by Justin Arnott, a South African, the Chaplaincy team at EMU reaches out to Christian students from countries in Africa, Asia and the Middle East. Navina arrived at Famagusta on 25 April and immediately began her work, learning about her parish, the university, the chaplaincy program and getting to know the needs of the students and how she has been called to serve them. She says:
"I am learning about the history and the sufferings and aches of this place and its people. It has been a fascinating and enriching two months. I see God at work everywhere and especially within me…"
"Since I arrived here, I have been meeting and visiting with the student congregation and other members of the church and getting to know the local community in which I live. I have started Turkish classes on a weekly basis. Once a week Bible Study and prayer meeting and two services on a Sunday. Once a week I attend a prayer meeting and Bible Study either at St John's, Deryneia or Christ Church, Ayia Napa, crossing over the border to the South. After the meeting, I meet with Rev Martin Phillips-Last as my training incumbent. I have been able to attend a funeral service with him and I am looking forward to other learning and training opportunities. I have also attended my first Parish Council meeting held at St John's, Deryneia. I have attended various diocesan training events and special services in Nicosia and a clergy day at Limassol. I have attended two joint leadership meetings with the churches who use the Chapel here in Famagusta and those who want to stay connected with other Churches. I have learnt a lot about the history of church relations from them too and I am working towards getting to know them better."
Navina's presence as a female priest has also been novel for many who have never met one.
"As a woman 'priest' (the way I am seen when I am wearing my collar), I have had interesting conversations with the students- all positive so far and also some interesting conversations with mainly Muslim men in the North and a Greek Orthodox man in the South. At the border crossing I have encountered many interesting conversations too and it's been fascinating to see people's reactions to me. Some people are curious, some nonchalant and others very encouraging…Last Sunday at both our morning and evening services we had a couple of men come to Church when I started preaching. After the service when I met with them they told me they came because they heard a woman teaching and were curious but they also asked if they could come back. That was an interesting experience. Three of them were Turkish Muslims but not practising Muslims."
For 100 years the ABM Good Friday Gift has enabled the Anglican Church in the Holy Lands to be Christ's hands and feet to the people there. The Diocese of Cyprus and the Gulf strongly believes in the importance of ministering to and serving the university students under their care and ABM is proud to partner with them in this work. We thank all who have supported the appeal this year and pray that you are greatly encouraged by the growth and new initiatives shared by Navina.
"But in every day God's grace has abounded. I am not as lost on the roads or in my mind as I was when I first arrived. There is a fresh vision to reach out to the student body old and new- to provide love and care for their needs, special and particular circumstances and heartaches. There is also fresh vision about how we become more Christ-like in our attitudes and behaviour within our own community and in the wider community. Our website is being updated, the students are managing the services well in my absence and growing in their spiritual walk with the Lord. They are eager and looking forward to all that God will show us in this new season at St. Mark's. I am very encouraged and feel blessed to be here at this time… I thank God for this placement and for all those who make this challenging and invigorating experience possible in my life and in the life of the students and congregation of St Mark's."
ABM gives thanks to God for Navina and Justin and their work with the students. May we all uphold them in prayer as they provide this essential service to the students at EMU and St Mark's, Famagusta. For more information about St Mark's please visit www.stmarksfamagusta.org/about-us
To support the work of ABM's Partner, the Episcopal Church in Jerusalem and the Middle East, you can donate to the Good Friday Gift here.
< Back