ABM Archive Website
THIS WEBSITE CONTAINS ARCHIVE MATERIALS FOR HISTORICAL REFERENCE ONLY
For up-to-date information, including our latest appeals, news, and resources, please visit our current website.
Project Update: Al Ahli Arab Hospital, Gaza
A year in the life of Al Ahli Arab Hospital in Gaza
August 2019
Some required amputations. Some were just children. Many had wounds from gunshots and air strikes. From 30th of March 2018 till 31st December 2018, Al Ahli Arab Hospital in Gaza treated 276 people (271 males and 5 females). 149 of them underwent surgical procedures.
The Ahli Arab Hospital, operated in Gaza by the Episcopal Diocese of Jerusalem, seeks 'to glorify God and bear witness to His love as manifested in the life of Jesus Christ'. The hospital is part of a broader health system in Gaza that had to deal with an upsurge in violence during 2018.
According to UN OCHA, 29,243 people were injured during mass demonstrations and other activities along Israel's perimeter fence with Gaza during the thirteen months from 30 March 2018. A further 273 were killed, including 271 Palestinians. 52 of these were children.
ABM in 2018 provided AUD 10,000 to the Ahli Arab Hospital for the purchase of medicine and other medical supplies for those injured in the conflict. In addition, ABM provided the Ahli with AUD 10,000 for reconstruction of a collapsed hospital ward (not yet complete) and AUD 51,062 towards the hospital's ongoing program for malnourished children.
Al Ahli Hospital staff work in very difficult conditions. ABM expresses deep appreciation of their work, and of the support provided by generous Australians.
You can continue to support the Ahli Arab Hospital by donating to ABM's Child Nutrition Project.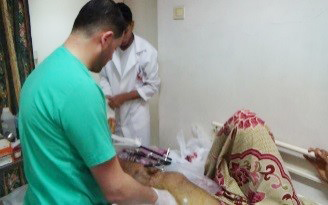 Images show staff tending to patients at the Ahli Arab Hospital
in Gaza. © Al Ahli Hospital.
< Back