ABM Archive Website
THIS WEBSITE CONTAINS ARCHIVE MATERIALS FOR HISTORICAL REFERENCE ONLY
For up-to-date information, including our latest appeals, news, and resources, please visit our current website.
Holy Land: Gaza Child Nutrition Project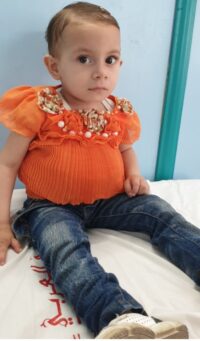 © Ahli Arab Hospital, Gaza. Used with permission.
You can help vulnerable children in Gaza
Raghad was born in the spring of 2018 in Gaza. Although she was a full-term baby, she weighed just two kilos at birth. Raghad lives with her family in a one-room apartment shared with another family. Her parents are among Gaza's 45% unemployed, and the family lives in poverty. When she was examined by the Ahli Arab Hospital's paediatrician at the age of two, Raghad was found to be severely underweight (weighing a mere 7.6kg). Because of this she was selected, as one of 60 children, for three months treatment with high energy biscuits. Her mother was given health and nutrition education and counselling, and she brought little Raghad back to the hospital every two weeks for a progress check.
After three months, she had gained almost 2kg and 4cm in height. Her mother was hugely grateful to the hospital for this free health and nutrition service for her daughter.
ABM's Child Nutrition Project targets malnourished and underweight children aged between six months and five years. As well as thorough nutritional assessments (last year 429 children were assessed) and a clinical examination, the children's health is followed up with laboratory and radiology investigations when needed. Any needed medicines are prescribed for additional issues such as infections and parasites.
Last year almost half the 429 children surveyed were anaemic, 21% had low height for their age and almost 21% were underweight. 60% of the children were refugees. Of the 60 children selected for the program, all were underweight or severely underweight and had rickets, 72% were low height for age.
The good news is that, thanks to ABM's generous supporters, 95% of the children gained weight and almost 60% gained height during the three-month intervention. Those who do not make sufficient progress during the time are brought into the next round of the program.
During this time of COVID-19 the hospital follows all the recommendations of the WHO and Ministry of Health of the Gaza Strip.
Your support of this project will help many more malnourished and underweight children like Raghad to gain weight and have a much better chance of having a healthy life. The counselling and education provided to mothers will also help them have a greater understanding of child nutrition, which will benefit all their children.
» In 2021 the Gaza Child Nutrition Project needs $29,100
HOW TO DONATE

< Back