ABM Archive Website
THIS WEBSITE CONTAINS ARCHIVE MATERIALS FOR HISTORICAL REFERENCE ONLY
For up-to-date information, including our latest appeals, news, and resources, please visit our current website.
PROJECT UPDATE: GOOD FRIDAY GIFT – HOLY LAND INSTITUTE FOR THE DEAF IN SALT, JORDAN

November, 2021

Your Good Friday Gift* in 2021 has enabled the Holy Land Institute for the Deaf in Salt, Jordan to offer affordable or free quality education to six deaf and blind children who can't afford to pay for these vital educational services. Your Gift has a snowballing effect, as it has also reduced the financial burden on six very low-income families and enabled them to keep their children at the school. Thus, the whole family, including other children, have benefited.
Strict eligibility criteria were applied to enable the six students to have significantly improved access to high quality education.
The school is located in a hillside town near Amman, the capital of Jordan. Founded in 1964, the Institute has been in an almost continual state of expansion, trying to meet some of the great needs in Jordan, Israel/Palestine and the wider Middle East. It has eight specialist departments which provide K to 12 education leading to university and other further education.
The Institute's Deaf-Blind unit is the only such facility in the Arabic-speaking Middle East.
Enabling these six children to remain in school and eventually have the opportunity to transition to higher levels of education such as college and university will mean they can achieve their dreams and improve their own and their families' quality of life in the future.
In a broader sense, our gift will also make a small contribution to national cohesion and peace building efforts. As more members of the community (scholarship beneficiaries and their families) experience the value of education and the importance of peaceful and harmonious co-existence with other members of the community, seeds of sustainable peace and stability will have been sown.
Significantly, it has also contributed to expanding educational space for vulnerable, orphaned, and marginalized children in the whole Anglican Province of Jerusalem and the Middle East.
In 2021 the Good Friday Gift sent a total of $25,000 to the Diocese of Jerusalem for this project.
ABM thanks our generous supporters for remembering some of those most in need in the Holy Land on Good Friday.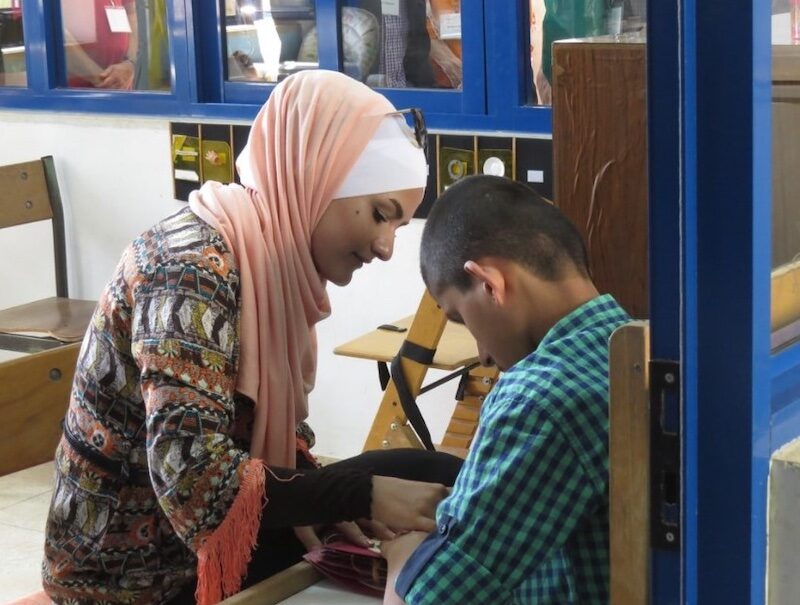 Photo: A teacher assists a student at the Holy Land Institute for the Deaf in Salt, Jordan. © American Friends of the Episcopal Diocese of Jerusalem. Used with permission.