ABM Archive Website
THIS WEBSITE CONTAINS ARCHIVE MATERIALS FOR HISTORICAL REFERENCE ONLY
For up-to-date information, including our latest appeals, news, and resources, please visit our current website.
Kenya:Catechesis of the Good Shepherd Children's Program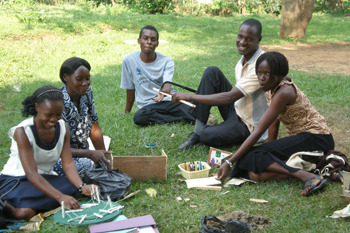 Students at a workshop in Kenya. © ABM/Beth Snedden, 2014.
The Catechesis of the Good Shepherd children's ministry is a Christian Education program which builds young children's faith, ages 3 through 12.
It is delivered in Anglican Churches in Kenya with some assistance also going to development of this ministry in Uganda and South Sudan and Burundi.
This faith development program provides firm foundations for children and is being very well received in Kenya by both children and their families.
There is a great need to improve the Faith nurture of the children and the Archbishop and the Bishops in Council recognise that this program is very effective for the young people and is encouraging them to spread it all across Kenya.
The Archbishop's diocese in Nairobi has the huge Kibera slum and there is a great need to grow faith in the children there and in other slums and poor rural areas. They have decided to extend this program across their diocese as has the Bungoma Diocese in West Kenya.
In a recent report the church told ABM, "God is helping the Catechesis of the Good Shepherd to develop strongly in Kenya and nearby countries with about 25 centres either operational or planned. It is now developing in nine schools across Kenya and will provide nurture for children from Nursery to class eight."
In 2015, the aim is to further develop a training area in Nairobi for the training of leaders to further develop this ministry in Kibera and to grow the number of Formation Leaders.
Please donate to this project to help it continue to grow and to assist in providing resources for the children to use as they learn of the scriptures.
KE003YC – Catechesis of the Good Shepherd Children's Program needs $19,800 in 2015 (non tax-deductible)
HOW TO DONATE
You can make an online donation to this project by selecting Kenya: Children's Catechesis of the Good Shepherd from the full project list.
Alternatively, for donations by cheque/money order (made out to the Anglican Board of Mission – Australia), telephone or email, view contact details here. Please don't forget to include the project name and/or code with your payment details.
Project Updates
Fr John Corner reports that the children are responsing positively to the atriums as a special space "to draw close to God". Read more.
And from Fr John in April 2015:
"Just also wanted to share with you some news from the CGS team in Kenya, because of changes in dates that various groups wanted training, they have ended up with the mounting of 3 trainings in different places in East Africa all in the same week! One at Namatala, in East Uganda, one at Bondo Diocese (a diocese in the west of Kenya who have recently decided they want to roll out atriums across the diocese) and one at St Stephen's in Makueni Diocese in the East of Kenya. This has involved Kistos in putting 3 teams together with a total of 12 Formation Leaders involved, a great learning experience for them all with the need for some of the leaders to step up to training direction. There were two people come across from Huye in Rwanda to the training at Namatala, wow!"