ABM Archive Website
THIS WEBSITE CONTAINS ARCHIVE MATERIALS FOR HISTORICAL REFERENCE ONLY
For up-to-date information, including our latest appeals, news, and resources, please visit our current website.
Update on the Good Shepherd Program in Kenya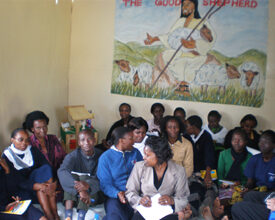 Training leaders for the Catechesis of the Good
Shepherd program.
The Anglican Church in Kenya has reported that the Catechesis of the Good Shepherd program is being well received by children and their families. They recognise that it has been very effective for young people and want to implement the program across all of the dioceses in Kenya.
There is still a great need to grow and strengthen the faith of children in the large slum area of Kibera in Nairobi Diocese. As well as this, the program is being extended to other parts of the diocese and Bungoma Diocese in West Kenya. A number of church schools are running the program, with the focus on its development and producing appropriate materials for older children.
The Church's Kenyan Association wish to further develop the training area in Nairobi for its Formation Leaders so that the Kibela slum community will benefit from improved ministry, and hope for assistance in more training outside of Kenya.
"We need to consolidate this ministry in churches and schools by doing further training and this provides experience for our Leaders and this includes training in Uganda and Southern Sudan and Burundi."
Thank you for your support of this project which is helping to grow the Church in Kenya.