ABM Archive Website
THIS WEBSITE CONTAINS ARCHIVE MATERIALS FOR HISTORICAL REFERENCE ONLY
For up-to-date information, including our latest appeals, news, and resources, please visit our current website.
Update on the Machakos Leadership and Management Training project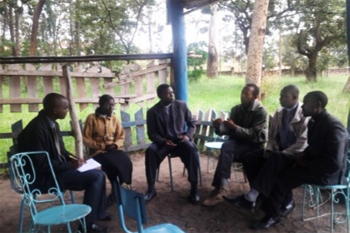 A training session in Machakos.
August, 2014 – The Machakos Leadership and Management Training project is now in phase 3. Over the last two years, a lot has been achieved in the dioceses of Machakos and Makueni.
In the first year, the main focus of the project was to train parish leaders from the 106 parishes in Machakos Diocese for the division of the diocese into two – Machakos and Makueni. This was done in one day per cluster of parishes based on their geographical location.
In the second year, in-depth training was geared towards upgrading the leadership and management skills of the neediest parishes in each dioceses. These comprised of 18 parishes from Makueni Diocese with a total of 24 leaders, and 12 parishes from Machakos Diocese, with a total of 38 leaders.
There was also a Vision Conference held to address the socio-economic status of the people in the parishes, with 36 leaders from Makueni and 30 leaders from Machakos in attendance. The conference's main aim was to equip the leaders with the relevant skills for improving their socio-economic situations by "challenging their thinking in terms of how to improve their livelihoods in farming God's way."
"During the trainings, the leaders were provoked to think critically in terms of how they can lead and marshal the people towards embracing the gospel and supporting the church. During the trainings it emerged out that the number that was targeted was small as compared to the congregations and therefore for impact to be realised, it could take a long period of time and as a result there was need to target more leaders from the parishes to ensure that the skills gained can be spread quickly and efficiently across the diocese."

Phase 3 will continue to address the key issues in the previous phase, with the training of different leaders to ensure that there is an available pool of skilled leaders. The leaders who are based in parishes can pass on their knowledge and skills to other church members so that more people will benefit by improving their socio-economic status and growing a stronger community and church.
Thank you for supporting the Dioceses of Machakos and Makueni in training good leaders and helping their communities.