ABM Archive Website
THIS WEBSITE CONTAINS ARCHIVE MATERIALS FOR HISTORICAL REFERENCE ONLY
For up-to-date information, including our latest appeals, news, and resources, please visit our current website.
September 2021: Project Update – Julie's Story
Julie (pictured) is a tailor whose lower limbs are paralysed. As a participant in ABM's Disability Inclusion Project, Julie used her loan from the project to purchase a sewing machine so that she could increase her output.
Normally, the participants pay back their own loans once their businesses start to bring in more income. However, in Julie's case, her church, which had been part of the awareness-raising program decided to make their support for Julie tangible by offering to repay her loan. They also committed to continuing to support her in various ways.
This action of support by Julie's church was brought about by the raising awareness-raising component of the Disability Inclusion Project implemented by ABM's partner, the Diocese of Eldoret's Community-based Rehabilitation Centre.
This work raises awareness of both the human rights of people with a disability and of the need to remove the stigma of disability, among Anglican parishes, other churches and local communities in the area covered by the Eldoret Diocese.
Julie was very gratified by her church's very tangible show of support for her and her tailoring work.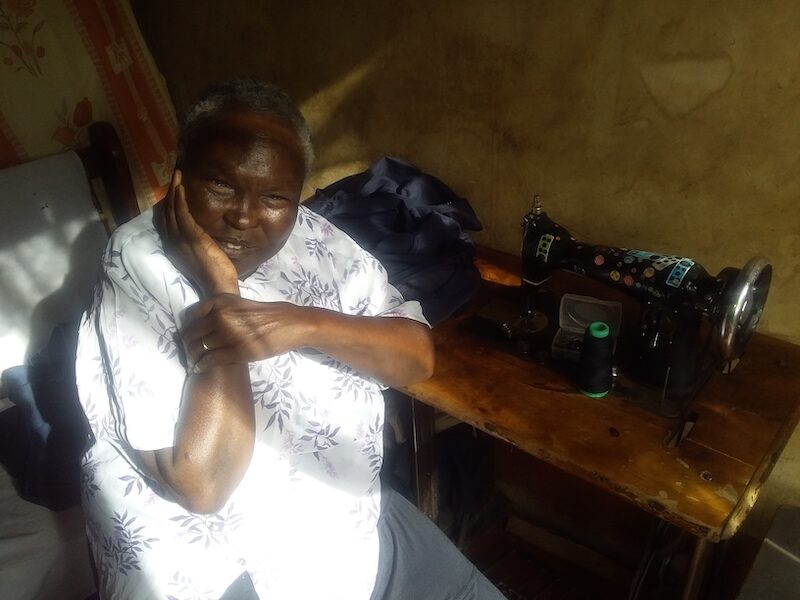 Julie with her old sewing machine before she replaced it with a new one, purchased from her project loan. © Community-based Rehabilitation Centre, Diocese of Eldoret. Used with permission.