ABM Archive Website
THIS WEBSITE CONTAINS ARCHIVE MATERIALS FOR HISTORICAL REFERENCE ONLY
For up-to-date information, including our latest appeals, news, and resources, please visit our current website.
Project update: Sustainable Livelihoods Program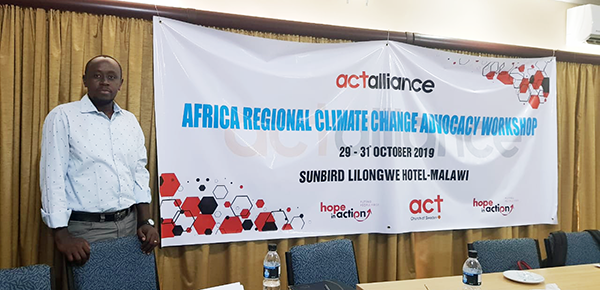 John Kinyoki at the Climate Change Workshop in Malawi. © Jennifer Mutua, ADSE. Used with permission.
ABM Supports our Kenyan Partner in Climate Change Advocacy
"We should work on ensuring climate justice is done…" These words were expressed by Jennifer Mutua after she attended a Climate Change Advocacy workshop in Lilongwe, Malawi in late October this year. Jennifer works as a Project Officer for ABM's Kenyan partner, Anglican Development Services, Eastern (ADSE), and the workshop was organised by Action by Churches Together (ACT) Alliance Africa Forum.
ADSE raises awareness about Climate Change as part of their ABM and Australian Government-funded* work with farmers in semi-arid eastern Kenya. Advocacy is part of helping the farmers adapt their farming practices to drought and climate change, and to manage water sustainably. ADSE also works with local primary schools to help get messages about environmental protection and climate change across to the next generation.
ABM funded two of ADSE's staff to attend the workshop. The other staff member was their water engineer, John Kinyoki. Jennifer and John not only attended the three day workshop, they also facilitated some of the discussions.
"It brought a clear picture that all over, we in Africa have been affected by climate change", Jennifer noted.
The workshop discussed the place of faith-based advocacy and the role of faith actors in climate policy. It also covered the 2016 Paris Agreement, the UN Climate Change conference held in Bonn, Germany in June, 2019 (SB50), and COP 25 in Madrid (December, 2019). Facilitators led participants to an understanding of the need for, and tools to effect Climate Justice Advocacy.
Malawi was used as a case study of climate change in Africa, particularly instancing cyclones Idai and Kenneth which ravaged Mozambique, Malawi and Zimbabwe earlier this year.
Participants came from ACT Alliance member churches and organisations in many African countries: Angola, Zimbabwe, Mozambique, Burkina Faso, Ethiopia, Kenya, Uganda and Malawi. Governments and youth were also represented.
The workshop finished with the group drafting a detailed Action Plan which includes:
Developing common advocacy materials for members to use
Developing advocacy strategies, especially for media and social media
Creating awareness of climate financing facilities.
As John Kinyoki said, "The workshop learning will help in developing ADSE's advocacy strategies, sharing platforms and enhance our participation globally for the benefit of our community in climate change adaptation."
Thanks to ACT Alliance for organising this important workshop, and to ADSE for supporting it by sending their staff. A special thanks to Jennifer and John for their active participation and for sending ABM their report.
ABM also supported its two Philippine partners, ECARE and VIMROD, to attend a similar Climate Change workshop in Iloilo this year.
You can read more about ABM's Climate Change Advocacy at https://archive.abmission.org/climate-change.
< Back