ABM Archive Website
THIS WEBSITE CONTAINS ARCHIVE MATERIALS FOR HISTORICAL REFERENCE ONLY
For up-to-date information, including our latest appeals, news, and resources, please visit our current website.
Project Update: Light for the Women of Kyua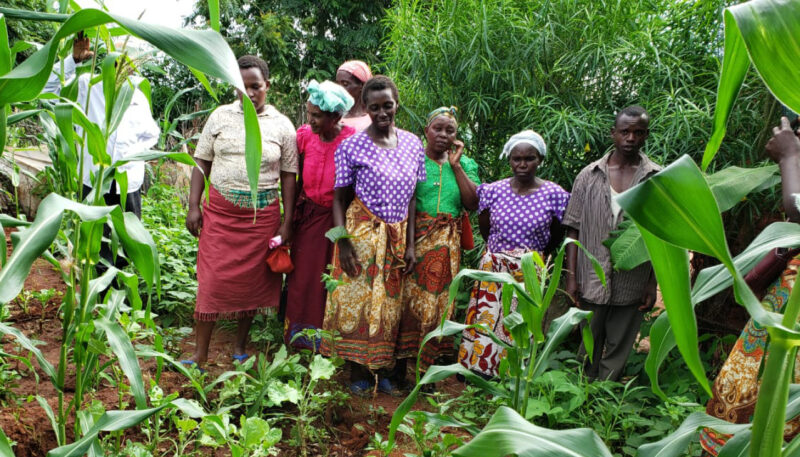 Mwikali Mutua and members of the self-help group she started, monitor the kitchen garden of one of their members.
Mwikali Mutua is a farmer, wife, mother of six, and grandmother of two. Several years before ABM's Kenyan partner, Anglican Development Services, Eastern (ADSE), came to her community, Mwikali was instrumental in forming a "self-help group" for women in her village, called Kyeni Kwa Aka Kyua (Light for the Women of Kyua). The first thing the group did was to start a savings group called a "merry go round". This group was successful, and it was not long before it also encompassed "table banking". Then they began to help each other to do major farm work like digging terraces and preparing the land for the rains.
When ADSE arrived in 2017, Mwikali's group joined the new Community-based Organisation established by ADSE.
"First, we learned a new concept of saving, Village Savings and Loans (VSL) which is easier and more organized than the normal table banking. Second, we learned about different agricultural technologies. The ones which have helped us most is the use of zai pits as a way of soil and water conservation, bearing in mind that our area is usually very dry during most months of the year. We were taught that we can use the zai pits to plant vegetables and hence we have dug the pits near the group farm pond, and this allows us to water our vegetables just once every week," says Mwikali.
Each woman in the group was able to dig her own pits and build a fence around her kitchen to plant vegetables for her family. Now no woman in the group has to go to the market to buy vegetables.
The husbands are also very happy, as they can now save money previously used to buy vegetables, and cater for other family needs.
Mwikali started planting the vegetables in 2019 and there was a severe drought affecting the area and she could only use 5 (20 litre) jerricans to water her vegetables weekly. But because of the zai pits, she was able to feed her family from July until October when the rains began. This meant she also didn't need to sell her chickens before they matured, in order to buy vegetables for the family.
Mwikali has also learned a lot about taking care of her cattle, the importance of planting trees, using drought-tolerant crops, family hygiene and much more.
"ADSE has enabled us women to be able to be productive in our families and we are very happy," says Mwikali.
ABM congratulates Mwikali, and thanks ADSE and Kyua project officer Eunice Musangi for this story. We also thank our supporters and Australian Aid for helping to make this a success story for Mwikali and her self-help group.
As well as receiving much-needed funding from ABM's generous supporters, this project also receives Australian Aid funding through the Australian NGO Cooperation Program (#ANCP).

This project receives partial funding
from the Australian Government.