ABM Archive Website
THIS WEBSITE CONTAINS ARCHIVE MATERIALS FOR HISTORICAL REFERENCE ONLY
For up-to-date information, including our latest appeals, news, and resources, please visit our current website.
Kenya: Sustainable Livelihoods project update
March 2017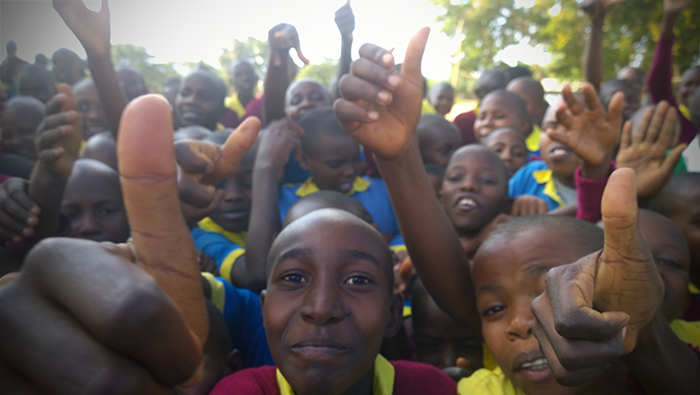 Children from Mawele Primary School in Kyawango give the thumbs up to ABM. © ABM/

Julianne Stewart

, 2017.

In February, ABM Programs Director Dr Julianne Stewart visited our partner in Kenya, the Anglican Development Services Eastern (ADSE). She went to several project sites with the team, and spoke with the members of the Community-based organisations that are supported by ADSE and the ABM Livelihoods program.
There were many stories of challenges and triumphs, of overcoming obstacles through hard work, persistence, and carefully implementing the training provided by ADSE.
Angeline Kalokwo is a member of the Village Savings and Loans group in Makakya, and spoke with Julianne about the most important changes she had experienced since the project began in 2014.
Personally, because of the Village Savings and Loans Group, I'm able to send my kids to school and pay the fees. I'm a beneficiary of Kainyowe Sand Dam and I'm doing well. I've planted tomatoes, bananas, and even mangoes near the sand dam. I'm able to sell these and get good money.
Previously I never used to wear good clothes, such as the suit, shoes and even mobile phone I have now. My self-esteem is very high. And my hair used to be full of white, but now I can afford hair dye.
My husband is now also very clean and healthy, and also wears good clothes. We are both members of groups (different self-help groups) and we make decisions together. Previously we could not reason together, due to poverty [ie, they had no choices, and thus nothing to discuss]. But now there are many opportunities to make decisions together. For example, how to spend our money, and how to improve our farm business.
Once, we used to cook Ugali (staple maize, water and fat dish in Kenya) and have it with Kimboke (a weak porridge made of maize flour, water, fat and onions). But now we cook vegetables with our Ugali. There are vegetables in the market here now that never existed before. Previously the vegetables came from far away, and were too expensive for us to buy.
Husbands are no longer looking for work in Nairobi. In Africa it is a big cause of shame for men not to have enough money to care for their children and wife. They go to the city to look for work, but they don't get good jobs, and have many additional expenses in Nairobi. When they return it is good, because they help the security of the community, add to the labour force. And they are able to stop land encroachment practices that some neighbours engage in. So they protect the home and property of the family. That is why we have "Operation Men Come Back".
ABM would like to thank everyone who has generously donated to this project. Your support is enabling the Anglican Development Services Eastern to provide essential training to people like Angeline, enabling entire communities to escape from poverty and become proudly self-sufficient.