ABM Archive Website
THIS WEBSITE CONTAINS ARCHIVE MATERIALS FOR HISTORICAL REFERENCE ONLY
For up-to-date information, including our latest appeals, news, and resources, please visit our current website.
An Oasis in a dry land
Part 2
December 2018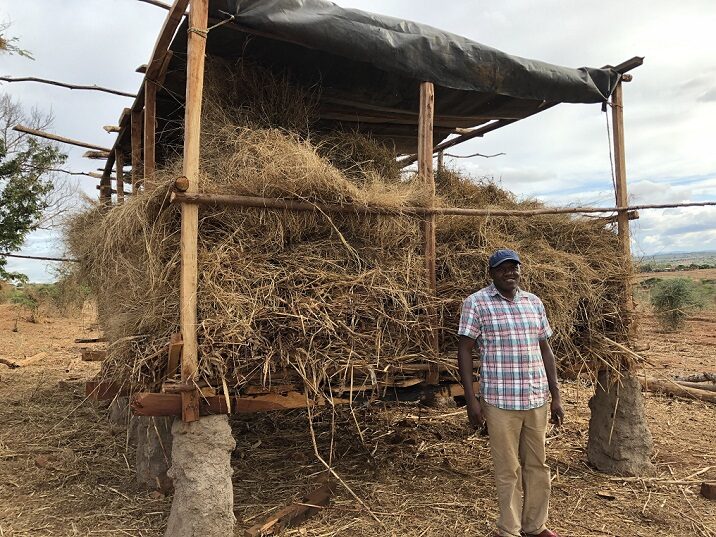 Titus stands outside his fodder stalls in rural Kenya.

© ABM/Julianne Stewart 2018
Last week we introduced you to Titus, a hard-working farmer in rural Kenya who is being trained through the Livelihood Improvement program, supported by ABM's generous donors. You can read the story here. This week we bring you the next instalment, written in Titus' own words, describing his journey to agricultural success so far. As you read, keep in mind that his story is set against a backdrop of severe drought, which has forced many in East Africa to the brink of starvation.
"A while back, before our self-help group (Kyunya Water Harvest Self-Help Group) joined Kiangini Development CBO, whose activities are funded by ABM through Anglican Development Services Eastern (ADSE), I had been doing just normal farming. Some years I would not even be able to harvest, because the rains here are not regular.
"Once ADSE came on board, we did some very useful training. First there was the Good Agricultural Practices training, then the Post-Harvest Handling, Fodder Establishment, Soil and Water Conservation, and Drought-Tolerant Crops. I put all this training into practice.
"What I'm doing now is storing grass and left-over maize for my goats and cows. I'm still harvesting the grass, and I wasn't doing any fodder harvesting before.
"In terms of water conservation, previously, my land had many gullies. So I applied terracing after receiving the training on this, back in October last year.
"I found there were great improvements in my harvests after the March-April rains this year (2018). This is in comparison with my neighbours who did not terrace their farms and prepare their lands well, leading to total crop failure."
Titus's Improved Harvest and Livestock Numbers after 18 months

2016

2017

2018

No maize

5 x 90kg bags maize

10 x 90kg bags maize

No green grams (lentils)

3 x 90kg bags green grams

5 x 90kg bags green grams

No cow peas (chick peas)

3 x 100kg bags cow peas

4 x 110kg bags cow peas

No sorghum

No sorghum

3 x 100kg bags sorghum

10 goats

15 goats

More than 20 goats

10 poultry

20 poultry

30 poultry

3 cows

5 cows

8 cows
"My income has grown. Previously I had to keep everything I grew for our family consumption, and I had to buy food items from the market. But now I am actually selling my grass, eggs and milk.
"For the future, I'm planning to improve my breed of cows, and to buy more land so I can grow more fodder. I'm also planting mango trees, and have 60 planted now. I can afford to buy pesticides.
"Our self-help group identified me to be the host farmer for our group Farm Pond. We built it in July, after the March-April rains, and we are waiting for the November-December rains to fill it*. Once it is filled, the group will be planting vegetables and fruit trees.
"In terms of personal improvements, I can now buy new clothes for myself and my family. I'm also a tailor, and have a small shop, which I can now expand. I also sell milk, eggs and chicks, and use my crops for home consumption. My wife works in a shop in Kathonzweni, and she is also very happy about the increase in our produce."
These stories of success are a testament to the hard work and tenacity of these farmers, the effectiveness of the training offered by the ADSE Livelihoods Program staff, and the kind support of our generous ABM donors.
It is becoming increasingly clear, however, that climate adaptation and mitigation will only assist vulnerable people such as Titus up to a certain point. The once predictable November-December rains he spoke of have failed to come, delaying the planting of crops and frustrating the efforts of the farmers, whilst adding to pressure on food prices for thousands of people in the surrounding area.
A key report released by the International Panel on Climate Change (IPCC) last month [1] warns that the world is falling dangerously short of curbing greenhouse gas emissions, and if appropriate action is not taken immediately, will lead to a rise of over 1.5 Celsius by the end of the century. The effects of this warming would be catastrophic, with the impacts disproportionately affecting those already in poverty. As talks at the annual UN Conference of the Parties (COP24) become mired in controversy over the acceptance of the report, it is perhaps more important than ever for individuals to act as a matter of conscious, to ensure our governments and industry leaders work to preserve our natural environment for future generations.
This project is partly funded by Australian Aid through its ANCP program, and includes funding from ABM's generous supporters.
< Back