ABM Archive Website
THIS WEBSITE CONTAINS ARCHIVE MATERIALS FOR HISTORICAL REFERENCE ONLY
For up-to-date information, including our latest appeals, news, and resources, please visit our current website.
Korea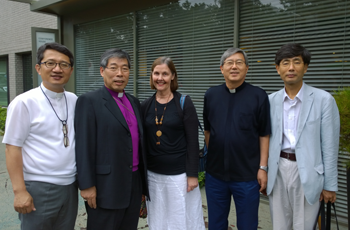 Rev Stephen Yoo, Archbishop Paul Kim, Dr Julianne Stewart,
Rev Abraham Kim and Mr Thomas Jun. © ABM 2014.
ABM's partnership with the Anglican Church of Korea dates back to 1970.
ABM has supported the Towards Peace in Korea (TOPIK) Nutrition Program since 2008. The Worldwide Peace Conference hosted by the Anglican Church of Korea in 2007 resulted in this program which aims at alleviating famine in North Korea as well as promoting peace and stability between the North and South Korean nations. The Church provides humanitarian aid including nutritional assistance to the vulnerable and upholds the belief that reconciliation and harmony can be accomplished through mercy and forgiveness.
2016 project in korea
Community Development Program
> You can learn more about ABM's Programs here.

The Korean Anglican Church celebrates 125 years
ABM's Executive Director the Rev John Deane attended a celebratory Eucharist at the Cathedral of St Mary and St Nicholas in Seoul on the 3rd October, 2015 as the Korean Church celebrated its 125th Anniversary. Read more about this special event from the Anglican Communion News Service:
http://www.anglicannews.org/news/2015/10/korean-anglicans-celebrate-125-years-of-mission-ministry.aspx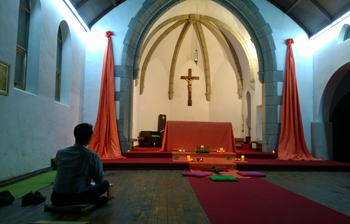 Bishop Onesimus Park at Busan Taize service.
© Julianne Stewart/ABM 2014.