ABM Archive Website
THIS WEBSITE CONTAINS ARCHIVE MATERIALS FOR HISTORICAL REFERENCE ONLY
For up-to-date information, including our latest appeals, news, and resources, please visit our current website.
TOPIK – Towards Peace in Korea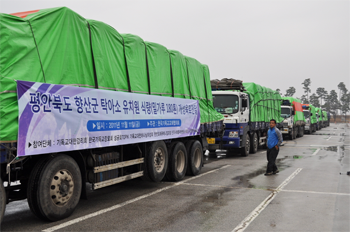 Supplies being sent to North Korea as part of the TOPIK project.

© TOPIK, 2011.
This is part of the Community Development Program: Learn more about ABM's Programs here

In late 2015, the 125th anniversary of the mission to Korea that began the Anglican Church in Korea was celebrated.
The Rev John Deane, ABM's Executive Director visited for the anniversary and said, "Korea has a very strong memory of the work of ABM and we are very committed to maintaining a strong relationship."
"It's a small church but it's great with innovation and has some very creative programs we've supported over the years," he said.
One example is the Towards Peace in Korea program.
TOPIK (Towards Peace in Korea) TOPIK continues to work for the reunification of Korea and provides much needed support to people in North Korea. In previous years the program has donated a much needed ambulance and equipment for a hospital in North Korea, via a People's Committee in the area where the hospital is located.
The Rev Deane said, "TOPIK is the church seeking to, in a way, do something quite radical within the Korean context in that it is seeking to continue to press for an ongoing re-engagement with North Korea with the desired outcome being a reunification of the peoples of Korea.
The Anglican Church of North Korea was really quite strong and since the war, not much is known about what's happened to that part of the church. I guess many fear the worst but it's history that drives the church to continue to communicate and find ways we might move forward."
Please give to the TOPIK project so that assistance and hopes of reunification can continue.
KP001NP needs $6,600 in 2016 (tax-deductible)
HOW TO DONATE
You can make an online donation to this project by selecting Korea: Towards Peace in Korea (TOPIK) from the full project list.
Alternatively, for donations by cheque/money order (made out to the Anglican Board of Mission – Australia), telephone or email, view contact details here. Please don't forget to include the project name and/or code with your payment details.
Gifts to ABM will be applied to the support of project(s) selected. In the unlikely event of the project being oversubscribed or not proceeding to completion, donations will be applied to a similar project to the one(s) selected.
< Back