ABM Archive Website
THIS WEBSITE CONTAINS ARCHIVE MATERIALS FOR HISTORICAL REFERENCE ONLY
For up-to-date information, including our latest appeals, news, and resources, please visit our current website.
Myanmar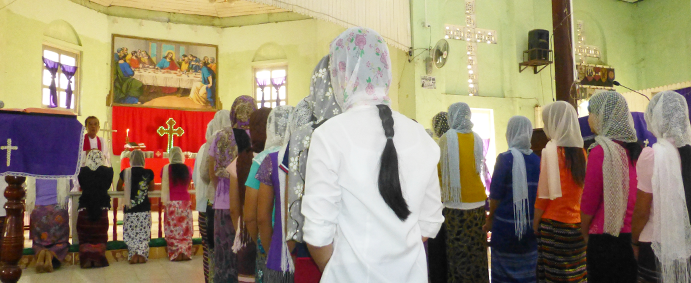 Church service in Toungoo Diocese. © CPM, 2016.
Geographically, Myanmar is the largest country in South-East Asia.
Its ethnically diverse population was estimated at 53.9 million in 2016, almost half of whom are under the age of 15. The agricultural sector, including livestock and fisheries, is considered to be the backbone of the economy, and some 70 per cent of the labour force is engaged in agriculture for their livelihood.
Myanmar is also one of the poorest nations in Asia; ranking 145th among 186 nations rated in the 2016 Human Development Report of the United Nations Development Programme. The average GNI per person is $4,943 (PPP adjusted), while life expectancy stands at 66 years. The average number of years children complete of their schooling is currently 4.7, with just 14% going on to attend university. In addition, the incidence of poverty in rural areas is significantly higher than in urban areas, and rural areas lag behind in health, social and educational indicators.
ABM has partnered with the Church of the Province of Myanmar (CPM) since 1992 to address these challenges, working together to implement programs relating to Water, Sanitation and Hygiene (WASH), Education and Livelihoods.
CPM consists of 6 dioceses, with the provincial office based in Yangon. The church population is estimated at 70,000, from predominantly Karen, Kachin, and Chin ethnic groups.
The development work of CPM is coordinated through the provincial development desk in Myanmar, which aims "to build healthy and self-reliant communities and churches". ABM is committed to supporting further capacity building within the Church and the development desk, ensuring staff members are fully equipped to meet various challenges as they are presented.
Your support of this work will make a vital difference in the lives of so many struggling with poverty, enabling essential training and providing opportunities for people throughout Myanmar to improve their own lives.
2021 projects in myanmar
ABM Documentary – Wellsprings of Opportunity
Wellsprings of Opportunity tells the story of a rural community in the Diocese of Yangon working in partnership with the Church of the Province of Myanmar on water and livestock redistribution programs that are steadily improving the livelihoods of farmers and their families in all sorts of ways.