ABM Archive Website
THIS WEBSITE CONTAINS ARCHIVE MATERIALS FOR HISTORICAL REFERENCE ONLY
For up-to-date information, including our latest appeals, news, and resources, please visit our current website.
Myanmar:Education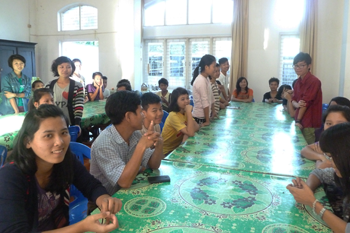 Participants at the AYPA Community Skills Training course.
©ABM/Lina Magallanes 2014
Over 65 young people have participated in this program in the last three years of ABM's support.
The training covers English classes, basic computer skills and building skills for community work. The training also includes awareness raising in a range of issues faced by young people in Myanmar today such as the trafficking of women and children, protection of the environment, drug addiction and other social issues.
The training is conducted by the Anglican Young People's Association (AYPA) and runs for six to eight weeks.
In 2015, support is being extended by ABM to allow AYPA to design the activities in a more sustainable way. A new cohort of young people is expected to benefit from a range of skills offered by this training.
The training prepares these young people for life in the city and/or university life, particularly those who live in rural and remote parts of Myanmar. By introducing them to computers, which they may have not seen or used before, and improving their English language skills they can more easily participate in social activities and adjust to a different phase of their life.
After completing this training, some young people become community workers, some go back to work in their dioceses, in commercial employment or to pursue higher studies.
Lal Dini, AYPA Provincial Director, said the community work training is very important to the young people of the Church of the Province of Myanmar (CPM).
"'The program has been very helpful for young people of CPM who are preparing for their future success. This is the only CPM program that gives our youth the chance to widen their general knowledge and help them decide what profession is most suitable with the skills that they have. We try to provide useful topics and experiences as much as we can. I believe the program really helps to improve the future of young people of CPM."
MM001EA – Myanmar Education needs $98,000 in 2015 (tax-deductible)
HOW TO DONATE
You can make an online donation to this project by selecting Myanmar: Education from the full project list.
Alternatively, for donations by cheque/money order (made out to the Anglican Board of Mission – Australia), telephone or email, view contact details here. Please don't forget to include the project name and/or code with your payment details.