ABM Archive Website
THIS WEBSITE CONTAINS ARCHIVE MATERIALS FOR HISTORICAL REFERENCE ONLY
For up-to-date information, including our latest appeals, news, and resources, please visit our current website.
Myanmar:Water and Sanitation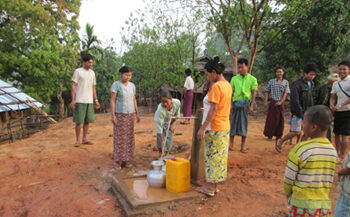 Villagers in Sittwe Diocese with their new water system.
ABM's two water and sanitation projects in Sittwe Diocese will provide drinking water to a total of 140 families living in two villages. The
water comes from streams located about 2km away.
Two other projects in Bago provide a well and latrines, as well as start-up capital to purchase some livestock to improve household incomes. Many of these families are landless farmers who earn from casual labour.
Access to clean and safe water improves health and sanitation in the villages. The new latrines improve hygiene as there is a high risk of contamination when open latrines are built near water supplies.
Awareness raising and sanitation campaigns will be conducted in the villages to educate families about water borne diseases and better hygiene and sanitation practices.
In 2015 there are two new water and sanitation activities, one in Mandalay diocese and another in Yangon diocese.
Here is what the bishop had to say about a water project in KyiWa village in Sittwe Diocese when it was completed earlier last year. "I dedicated and had a thanksgiving service on the completion of the fresh water for the villagers at KyiWa. They said in our own language "kawn parai ba ABM, tameuh my amtheaung hai Jo sy" – thank you so much ABM for you gave fresh water for us, God bless you and ABM."
Please support this tax deductible project so that more people in Myanmar can enjoy better health.
MM001WS – Myanmar Water and Sanitation needs $48,000 in 2015

HOW TO DONATE
You can make an online donation to this project by selecting Myanmar: Water and Sanitation from the full project list.
Alternatively, for donations by cheque/money order (made out to the Anglican Board of Mission – Australia), telephone or email, view contact details here. Please don't forget to include the project name and/or code with your payment details.