ABM Archive Website
THIS WEBSITE CONTAINS ARCHIVE MATERIALS FOR HISTORICAL REFERENCE ONLY
For up-to-date information, including our latest appeals, news, and resources, please visit our current website.
Myanmar: Evangelism and Christian Education
The Evangelism and Christian Education project includes a number of activities that will strength the Church of the Province of Myanmar (CPM).
All of the activities supported under this project contribute to the growth of the Church. Please give to these important ministries.
The Evangelism and Christian Education project is also supported by the ABM National Auxiliary.
MM011MA – Evangelism and Christian Education needs $40,200 in 2015 (non tax-deductible)
Capacity Building – Training for Clergy and Sunday School Teachers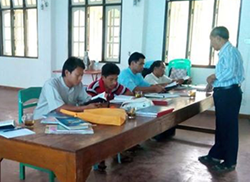 Bp John Wilme says of their 5-year strategic plan…
"Our clergy badly need more training in order to upgrade their theological knowledge and knowledge regarding current issues. They need to understand that our country is in transition period and Christians are the minority, being amidst the two major religions which are now getting very aggressive when they promote their respective religion.

At the same time we must also help our children to know Jesus as their Lord and saviour and to be firm in their faith, as they will be growing up in this country. We don't have proper trained Sunday school teachers.
They are only volunteers helping teaching Sunday school children in their respective villages. 10 years ago we trained some volunteers, but later we could not do anymore because of the cost.
We really need trained teachers who can help children to grow as faithful Christians in this country. Therefore, we indeed need ABM to support us in this programs which we planned to implement our strategic plan. See below:
a) There are 43 priests who are currently serving in the diocese. They are trained from bible schools for 4 years. After graduating from bible school, they were assigned to their respective parishes. They have fewer opportunities to learn more about theology and current issues because of the lack of resources. They only have chances to learn few topics once a year at diocesan annual retreat. According to diocesan five years strategic plan (2014-2018), the diocese is planning to provide short training courses three times a year for clergy.
b) Although Sunday school teachers from diocese do not have proper trainings, they are teaching and serving at Sunday school. Since our country is still in transition period and experiencing aggressive religious conflicts, it is vital to teach and strengthen the faith of children in our community. Young people need to develop firmed foundation and build strong faith in community in order to serve effectively for future. Priests, church members, Sunday school teachers and parents have responsibilities to teach, discuss and pray together with the children to strengthen their faith. Teachers will be divided into 2 groups with 2 trainings. According to diocesan strategic plan, diocese will try to reach the goal until 2018."
Funding is needed to provide the correct training.
Project Update: June 2015 – Bishop John Wilme gives an update on the training sessions which took place earlier this year. Read more.
Evangelism and Mission Seminars – Across Six Dioceses
From Rev Alan Kyaw Myo Naing, on behalf of Archbishop Stephen Than Myint Oo. Extract from Application:
"The Church of the Province of Myanmar is one of the Provinces of the Anglican Communion. Anglican mission started in Myanmar in 1854 and the first diocese, Yangon, was inaugurated in 1877 which covered only lower Myanmar. Since then the Church was growing slowly and the mission work was spread to the whole Myanmar. Until 1970 there were four diocese and from 1994 two dioceses increased.
To be self-sustainable funding is required so that seminars for the clergy and church leaders can be held. Through conducting these seminars not only the clergy but for the whole church will be benefitted. So this project is very important for them.
Seminars for six dioceses will be conducted at their diocesan offices.
The project will be continuing for a few years until the clergy, church leaders and some parishioners become mission oriented in their respective diocese. The Church will become more mission oriented and be able to carry out the Great Commission more effectively as taught by our Lord Jesus Christ.
The Church will grow with full awareness of the Great Commandment as taught by Jesus Christ: to love God and people.
The Church will grow with full awareness of the Great Promises as taught by our Lord Jesus Christ: "I will be with you until the end of the earth."
Project Updates:
June 2015 – Evangelism and Mission seminars in Sittwe and Hpaan Dioceses. Read more.
September 2015 – Evangelism and Mission seminar in Mandalay Diocese. Read more.
Youth Music Band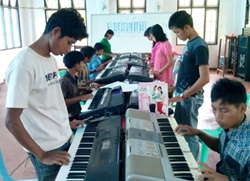 At present, Youth Department can help them by providing a classical keyboard for church and tribal entertainments. The Department is the main group that produce gospel and tribal songs for evangelism and lead every activity of the local festivals. If we have a music band, the department will conduct short music training in summer for young people who are interested. As for the Department, we are not able to purchase musical items and we really need a music band for the church festivals and tribal events.There are many young people who are talented in Music at Youth Department and they play a key role in musical entertainment of local tribal and religious festivals. Unfortunately, there are no musical instruments to use and nowhere to hire any.
Project Update: June 2015 – Bishop James Min Dein, Sittwe Diocese, reports, "We used the youth music band at a Bible dedication and thanksgiving at night on 10th May." See photos here.
Video Editing Project
Extract from Application:
"The Communication Department is one of the main departments which are going well for the Diocese.
There is no video editing job in our area, therefore we can also help other organisations with any recording that they may need. Recently, Hawi Htaik was appointed as a coordinator and has been trained based in video editing for two months. Now he is working well on recording and editing.
Although the laptop that is being used runs well, the video and manual camera are not working at all. The Video camera and manual camera are very important for the recording of church activities within the Diocese. We cannot do any recording without cameras, so we are in need of a working video camera and manual camera. This will be extremely beneficial."
Project Update: June 2015 – Bishop James Min Dein, Sittwe Diocese, sent ABM a recent update on the Video Editing Project. Read more.

HOW TO DONATE
You can make an online donation to this project by selecting Myanmar: Evangelism and Christian Education from the full project list.
Alternatively, for donations by cheque/money order (made out to the Anglican Board of Mission – Australia), telephone or email, view contact details here. Please don't forget to include the project name and/or code with your payment details.