ABM Archive Website
THIS WEBSITE CONTAINS ARCHIVE MATERIALS FOR HISTORICAL REFERENCE ONLY
For up-to-date information, including our latest appeals, news, and resources, please visit our current website.
Update: Evangelism and Mission Seminar, Mandalay Diocese
Another Evangelism and Mission (E & M) seminar was held in the Diocese of Mandalay from 21-22 August 2015. It was facilitated by Peter San Lin, Director of Development, and Joy Hla Gaw, Development Desk Consultant.
The Rev Alan Kyaw Myo Naing told ABM that there were 55 participants at the seminar who were "willing to discuss on Evangelism & Mission. We can produce goal, mission statement, vision and five objectives for the Mandalay diocese. It is a precious opportunity for them to share (with) one another on E & M."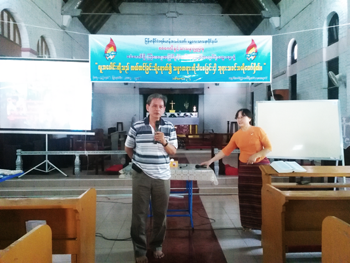 Peter and Joy running the Evangelism and Mission seminar
in Mandalay Diocese. ©CPM 2015