ABM Archive Website
THIS WEBSITE CONTAINS ARCHIVE MATERIALS FOR HISTORICAL REFERENCE ONLY
For up-to-date information, including our latest appeals, news, and resources, please visit our current website.
Myanmar: Education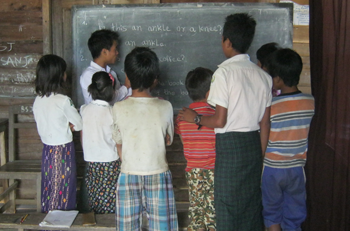 Students eagerly learning at Bum Sam Middle School.

© CPM 2015.
This is part of the Community Development Program: Learn more about ABM's Programs here

Following a visit to Myanmar last year, ABM Programs' Director, Julianne Stewart said, "This is a church which is playing no small part in contributing positively to the dynamic social fabric of modern Myanmar. I visited the Diocesan Learning Centre that ABM is supporting in Mandalay and met its new Principal. This Centre is teaching English, as well as some computing, music and Japanese. It is partly an income-generation project and partly a service to the local young people. I came away feeling that the Church in the Province of Myanmar is a church that is full of energy, dedicated to helping people to flourish, in all the possible meanings of the word."
ABM has supported education and learning in Myanmar in a number of different ways.
In recent years, the program funded training which covered English classes, basic computer skills and building skills for community work. The training also aimed to raise awareness in a range of issues faced by young people in Myanmar today, such as the trafficking of women and children, protection of the environment, drug addiction and other social issues.
ABM also supports the Bum Sam Middle School in Myitkyina Diocese, in Kachin State. The school is located in a very remote part of the state, only accessible by river. Sadly this part of Myanmar is frequently affected by armed conflict and the Church had to suspend classes for a time during 2015 for the protection of staff and students. ABM is currently working with the Church on a sustainability plan, so that the school will eventually be self-supporting.
MM001EA needs $43,020 in 2016 (tax-deductible)
HOW TO DONATE
You can make an online donation to this project by selecting Myanmar: Education from the full project list.
Alternatively, for donations by cheque/money order (made out to the Anglican Board of Mission – Australia), telephone or email, view contact details here. Please don't forget to include the project name and/or code with your payment details.
Gifts to ABM will be applied to the support of project(s) selected. In the unlikely event of the project being oversubscribed or not proceeding to completion, donations will be applied to a similar project to the one(s) selected.
PROJECT UPDATE
August 2016 – With the support of ABM, the Church of the Province of Myanmar (CPM) recently held an exciting 'Community Work Training' course, organized by the Anglican Young People's Association in Yangon. Read more.
< Back