ABM Archive Website
THIS WEBSITE CONTAINS ARCHIVE MATERIALS FOR HISTORICAL REFERENCE ONLY
For up-to-date information, including our latest appeals, news, and resources, please visit our current website.
Myanmar: Water and Sanitation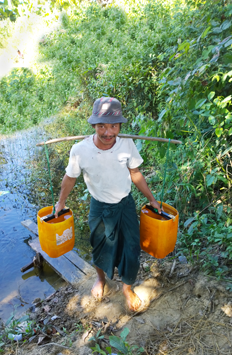 A man draws water from the local pond.

© Julianne Stewart/ABM, 2015.
This is part of the Community Development Program: Learn more about ABM's Programs here
In Myanmar, ABM is working to assist with water and sanitation infrastructure. The villages of Shwe Lei Vum and Lat Pan Kaing, located in Paletwa Township in Sittwe Diocese, are two examples of this work.
The area is remote and people mostly rely on casual labour to make a living as they do not own land.
The current water system uses streams which no longer provide fresh water from February to May. As a result, villagers often suffer from water-borne diseases such as cholera and diarrhoea. Many cannot afford to pay for medicine or treatment.
This project will directly benefit 80 families in Shwe Lei Vum Village – 460 people including 127 women and 110 children. In Lat Pan Kaing Village, 60 families will benefit from a new water system – 314 people including 108 women and 102 children.
This project plans to improve this system so that locals will have access to clean water for drinking and domestic use. With better health, the money saved can be spent on other necessities such as food and education.
The water source is from a mountain about 1.5km away and will be carried into the villages via PVC pipes. Both villages will have three cisterns each which will distribute water to six communities in Shwe Lei Vum Village and seven communities in Lat Pan Kaing Village.
The labour will be supplied by the villagers themselves, working with committees managing the process in each village. The committees have already bought pipes and other materials and trenches have been dug to lay the pipes. They are also building concrete tanks for water collection.
Your donation to this project will give clean water to local communities in Myanmar and assist hundreds of people.
MM001WS needs $43,020 in 2016 (tax-deductible)
HOW TO DONATE
You can make an online donation to this project by selecting Myanmar: Water and Sanitation from the full project list.
Alternatively, for donations by cheque/money order (made out to the Anglican Board of Mission – Australia), telephone or email, view contact details here. Please don't forget to include the project name and/or code with your payment details.
Gifts to ABM will be applied to the support of project(s) selected. In the unlikely event of the project being oversubscribed or not proceeding to completion, donations will be applied to a similar project to the one(s) selected.
PROJECT UPDATE
July 2016 – ABM is pleased to report that the Shwe Lei Vum and Lat Pan Kaing villages have now completed their projects, with the new water system piping fresh, clean water to both of these communities. And due to funding received by our generous ABM supporters, an additional village of Kian Va was also able to implement a similar project in the Sittwe Diocese. This brings the total number of people assisted to over one thousand. Read more
< Back