ABM Archive Website
THIS WEBSITE CONTAINS ARCHIVE MATERIALS FOR HISTORICAL REFERENCE ONLY
For up-to-date information, including our latest appeals, news, and resources, please visit our current website.
Myanmar: Water and Sanitation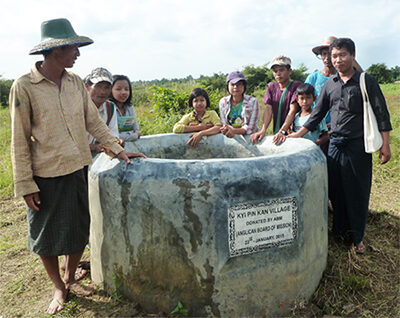 ABM funds water systems such as this one in Kyi Pin Kan Village.
© Lina Magallanes/ABM 2015
This is part of the Community Development Program: Learn more about ABM's Programs here
The Shwe Lei Vum, Lat Pan Kaing and Kian Va villages have fresh, clean water thanks to a new system provided by ABM's supporters. This is the tangible impact your donation makes in rural Myanmar.
During 2016, the number of people assisted through this work was over 1,000.
The villages began their water projects with the formation of a community working committee, an essential step in organising the work. Basic training on sustainable development was provided to this group by the Church of the Province of Myanmar (CPM), along with training in the technical and logistical aspects of constructing a water system. This equipped the committees to confidently manage the project, ensuring that the water system would be constructed well and that any future repairs would be swiftly completed.
When the building materials arrived at each site, the committees had help from their respective communities in digging the trenches, laying the pipes and pouring concrete for the three water tanks.
In fact, all the labour needed for this project was provided by the villagers, who were grateful for this opportunity to have water piped to their villages from up to 3.4 kilometres away. This meant a huge saving of time and effort in collecting water, enabling other tasks to be completed, including studying and earning an income.
These three village projects are complete and everyone is reportedly delighted with this fresh, clean and convenient water. The committees have also received training on good personal hygiene habits by the CPM Diocesan Health worker. This training will now be replicated in the villages by the committees, who will continue to encourage everyone to practice what they have been taught.
The difference made in Shwe Lei Vum, Lat Pan Kaing and Kian Va villages, enabling a brighter, healthier future for generations to come, can be replicated for even more people in 2017.
MM001WS needs $16,570 in 2017 (tax-deductible)
HOW TO DONATE
You can make an online donation to this project.

Alternatively, for donations by cheque/money order (made out to the Anglican Board of Mission – Australia), telephone or email, view contact details here. Please don't forget to include the project name and/or code with your payment details.
Gifts to ABM will be applied to the support of project(s) selected. In the unlikely event of the project being oversubscribed or not proceeding to completion, donations will be applied to a similar project to the one(s) selected.
PROJECT UPDATE
March 2017 – As far as Burmese villages go, Kyo Kyar and Myi Ni Gone are fairly typical. Sitting relatively close together in the Diocese of Yangon, the villages are marked by generous patches of bare earth amongst the fertile fields, attended by rustic dwellings made of straw and timber. Read more.
< Back